(Updated June 29, 2020)
This Pickled Jalapeno Pepper Recipe from Mrs. Wages, offers a great way to enjoy Jalapeno peppers and not suffer from the heat in the process! They still offer a kick, but pickling them mellows out the heat. Add the pickled jalapeno peppers to tacos, nachos, or pulled pork sandwiches. Top a pizza or bowl of chili with them, or chop them up and add them to the batter for your next batch of cornbread! Yum!
Special preserves like these pickled jalapeno peppers, which are often canned in smaller jars can make great house-warming or holiday gifts. Although this recipe references a pint. You can certainly can them in smaller jars. We'd recommend our 4oz or 8oz tapered jars or Ball jars. Processing time would be the same.
The original recipe is published on www.mrswages.com
If this is your first time water bath canning, read our Introduction to Water Bath Canning before you begin.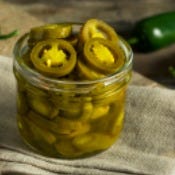 1

pint

jalapeño peppers

1

cup

vinegar

1/4

cup

water

1

tsp

Mrs. Wages Canning & Pickling Salt

1

tsp

Mrs. Wages Mixed Pickling Spices
Wash peppers thoroughly and pack tightly into jar, leaving 1/2-inch head space.

Combine vinegar, water, salt, and pickling spice in medium sauce pan. Bring to a boil.

Carefully pour boiling hot liquid over peppers to within 1/2-inch of jar top. Adjust lid.

Process 10 minutes in a

boiling water bath.
Get more pepper-preserving recipes in this post with Joel and Dana of Well Preserved.
Did you try this recipe for Pickled Jalapeno Peppers from Mrs. Wages? Let us know how you liked it, post a picture of it and tag us!
If you're interested in more condiment recipes – for your own pantry or for gifting – be sure to check out our Recipes for Condiments Pinterest Board!