Our Candle Makers Resource page serves as a directory for what Fillmore Container has to offer in the way of supplies, tips, guides, and templates for candle makers.
Candle Containers & Lids
These are the containers that would be most suitable for candles. Depending on what type of candle you are creating, you may want to browse all of our containers.  Covers/Lids/Closures are sold separately unless included by the manufacturer (i.e. Ball jars).  When viewing the product page of a container, the closures that are designed to fit that container will show up in the "Accessories" tab. You can also find similar items under the "Related Items" tab. Lid size, volume, and other important specs are found under the "Description" tab.
Wooden lids have recently become part of our lid line. They are made in the USA and quickly add an elevated dimension to your candle line.
As many of our candle makers are expanding into personal care products, we could recommend going to our main Jars & Bottles page where you can browse by category or sort by container volume.
Learn more about why we recommend cleaning jars prior to use.
---
Candle Wax
We currently carry wax from premium soy wax and coconut wax producers: NatureWax and Golden Brands. Our Wax Properties Chart can be helpful in your decision-making.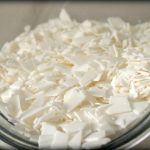 If all soy waxes were identical in relation to appearance and performance with all fragrances and/or dyes, the craft wouldn't be quite as exciting! We are sure to pass along all handling recommendations that we receive from the manufacturers. Because each chandler has their individual vision of their end product, the handling suggestions become very basic to allow folks to test and pour in order to find their perfect combination.
Learn more about testing and download some valuable templates to record your testing here.
Wax Handling sheets are found in the "product attachments" tab of the item. Learn more about our wax offerings here.
Community boards like Craft Server and our Facebook page are good ways to connect with other chandlers for tips. Craft Server is an independent forum where you can safely ask questions and get objective feedback from other seasoned crafters.
---
Fragrance Oil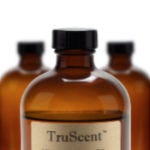 TruScent Fragrance Oils: Our full-strength made-for-soy fragrance oils have been tested and formulated to perform well with soy wax. Fragrances are packaged in Amber bottles with phenolic polycone lids and are available in 1oz, 16oz, and in some cases, by the drum (10lb or 25lb; depending on the fragrance). Here's a list of our top-selling TruScent fragrance oils in 2021.
Our latest TruScent additions are Pinecone & Honey, Oat Milk & Honey and Cinnamon & Soft Pretzel. You can always browse our newest fragrances by sorting with "New" in the sort drop-down box. We recommend viewing it using the " Show 24 per page" so that you're sure to see all of the latest additions. If you are local, we do have our fragrances displayed in the hallway of the customer pick-up area so that you can again smell them in person. If you aren't local, or if you are and wish to test the hot-throw, all fragrances are available for purchase in the 1oz sample size.
Learn more about Fragrance Load and related considerations and factors as you create and improve your candle formula.
Learn more about testing and download some valuable templates to record your testing here.
IFRA Certificates : We update our IFRA Certificates and MSDS documents as we get notified of changes by the manufacturers. Learn more about IFRA Certificates and how to use them here.
Vanillin: Learn more about Vanillin and how it may impact your candle-making in this post.
See all of our articles related to fragrance in our TruScent Fragrance Oils Archives.
---
Candle Wicks
Our wicks are designed to work well in soy wax. We offer a High-Temperature Paper (HTP) wick , Premier wicks (textile-grade Cotton), CD wicks and ECO wicks. We also carry 10″ wicks for prayer candle use. Learn more about our candle wicks here.
Our wick charts (see below) provide guidance for wick size based on the diameter of the melt pool created by the particular wick. Since the type of wax and variable such as fragrances, dyes, and other additives may impact the burn, testing a small range of wicks may be necessary. Learn more about candle wick types, advice on making a wick selection, and tips on wick care here. See more on testing your wicks and download some valuable templates to record your testing here.
---
Candle Care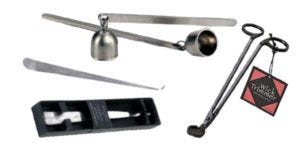 The proper tools can help your customers have a great experience with your candles and offer a value-added opportunity! We have wick trimmers, wick snuffers, and wick dippers that will encourage them to maintain their candles and keep them performing well!
---
Get more candle making tips, resources on our Candle, Bath & Body blog header, our Candle, Bath & Body Facebook Page or follow us Instagram.