Updated – June 17, 2021
We often hear from folks who have some bottles and jars but need some new lids in order to re-use or re-purpose them. This post will provide guidance on how to measure jars to determine what size lid the jar needs.
"How do I know what size lid will fit my jar?"
This is the question we get asked quite a bit, but sometimes, it's the opposite…a customer inherits a large number of lids, but doesn't have the jars to go with them. So, whether you're looking to cover some jars, or looking for jars to cover, we can help!
Different Jar Styles
First, it's important to know that these are the two primary types of containers and closures currently used in food packaging.
Continuous-thread (CT) is the Mason-style closure mechanism where the jar and lid are both threaded in one continuous bead around the entire circumference of the opening; also referred to as "screw-on".
Lug is the closure system where the container has multiple threads and the lid has an equal number of lugs or tabs that grip the corresponding threads; also known as "twist-off" closures.
Examples of Lug and CT Style Jars
How to Measure Jars and Lids
Measurements for jars and lids are almost always in millimeters (mm). Don't have a metric ruler? You can use a standard ruler or tape measure and convert it to metrics.
If you don't have a tool designed for this purpose, you can place some masking tape or some card stock to serve as a straight edge to take out the guesswork.
Here are some pictorial guidelines on the proper way to measure jar finishes.
First, we will start with an example of Continous Thread Jars (CT).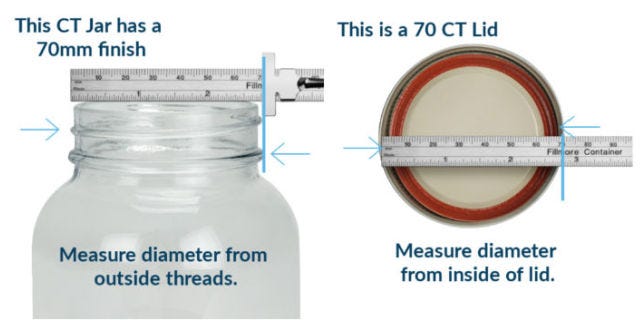 To measure Lug Jars, you'll use the same measuring guidelines as you do for a CT Jar.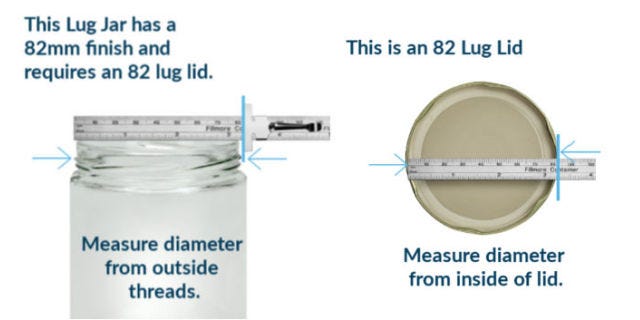 Once you know which size and whether or not it's a lug or CT, you can move forward and choose the best lid for your process. Browse our selection of lids here.
We offer a variety of lids for many different uses. For example; We carry a CT metal closure that offers a shorter skirt/profile with F217 foam liner. This lid is ideal for candles, or bath & body products. It's available in both 70/400 mm CT (which is a shorter profile lid) and 70/450 mm CT (a regular mouth style lid).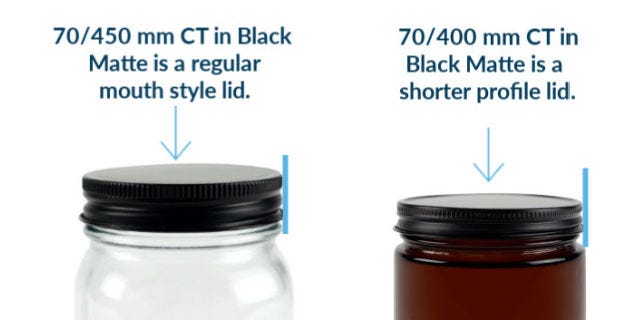 CAUTION…while we like to encourage responsible re-use of jars, we cannot recommend that you use jars of an unknown standard in your canning process. Many jars are not designed to withstand the pressure canner process and you may end up with product loss or suffer personal injury. Some may not even be able to withstand water bath. Please remember to keep the limits of your jars and/or lids in mind as you use them and re-use them.