Have a question for us? You might find the answer here in our Answers to FAQs, or in our Glossary.
We address specific questions related to preserving recipes & processes, products and resources on the blog as well. Browse the pull-down headers or try a keyword search on the blogs home page.
What is the difference between CT & lug?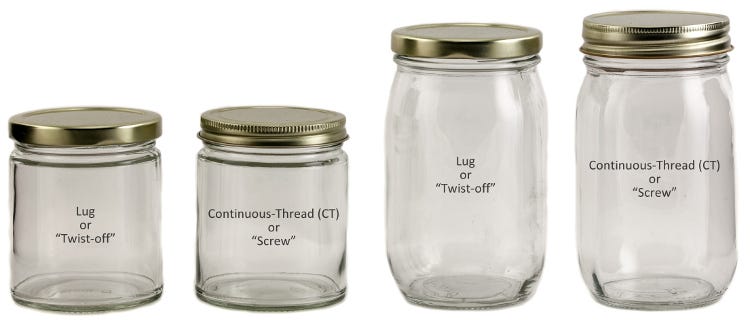 These are the two primary types of containers and closures currently used in food packaging. Continuous-thread (CT) is the Mason-style closure mechanism where the jar and lid are both threaded in one continuous bead around the entire circumference of the opening; also referred to as "screw-on". Lug is the closure system where the container has multiple threads and the lid has an equal number of lugs or tabs that grip the corresponding threads; also known as "twist-off" closures.
What does "CT" stand for (does NOT stand for count)?
The term "CT" on our site stands for continuous thread (the industry standard abbreviation), NOT count.
How do I know which lids will fit the container I selected?
After adding the container to your shopping cart, the website will display the available lids and accessories for that given container. Also, within the jar title or description, we state the finish (example: 8 oz Straight Sided 70-450 Finish), which indicates that the correct lid for this jar is 70-450. Under Lids & Caps, you can sort by lid size 70-450 and find all the lids we offer in that specific size. You can also find compatible lids under the "Accessories" tab of each particular jar or bottle.
How do I know what size lid I need for jars I already have?
Please refer to our blog post on measuring containers and closures.
What is the best jar/lid combination for my product?
You have most of the answers to this question. What will you be putting in the jar? Will you hot-fill, water bath, or pressure can your product? We recommend that you start by talking to your local agriculture extension office or a certified process authority.
If you're water bathing your product in a home canning environment, the only approved closure would be a two piece lid. You can test a hi-heat continuous-thread closure because there is less likelihood of over-tightening a continuous-thread (CT), and hi-heat lids can withstand the higher heat of a boiling water bath (212 degrees F). Standard one-piece CT lids are manufactured for hot-fill temperatures (around 180 degrees F). Lug/twist-off closures are manufactured primarily for compatibility with commercial machine capping equipment, but many of our customers twist them on by hand.
We highly recommend testing your packaging selection (s) for compatibility with each product and/or processing method before placing large orders. Our Guide to Liners in Caps & Lids or Guide to Commercial Canning Lids may be helpful.
Can I pick up at your warehouse?
Yes, you can. However, all pick-up orders must be scheduled and placed through our website and require 48 hour notice. Our updated system now sends notifications as soon as your order is staged! We work ahead as much as we're able, dealing with orders on a first come, first served basis. All comments, (including those requesting earlier pick-up) will send your order into a holding batch for review, which can delay the staging of your order. If you have comments regarding how your pallet needs to be wrapped, or height restrictions, please DO add those in the comment section so that your order is properly prepared when you arrive. Please refer to our Pick-Up Procedure article for details.
How do I get my shipping cost and estimated arrival date if I don't have an account with Fillmore Container?
After all items have been added to your shopping cart, click on the cart icon at the upper right hand corner of your screen and go to view/edit cart. From there, you can enter shipping address details to view available shipping options and ETA's. If you want to change the shipping details, you can do so, but you will need to click on "update shopping cart" to save your changes.
How do I repeat a previous order?
You will need to log into your account with us. Once logged in, you will be directed to your account dashboard. Then, you can select a recent order to repeat or go to "my orders" and select an order from there.
How do I add a product to my favorites list"?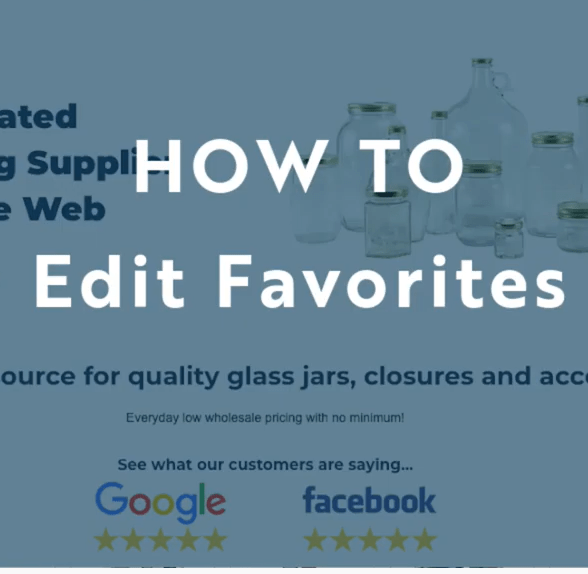 Any item on our site can be added to your favorites list by clicking on the heart icon for that item. Once added, it will show up under the "Edit Favorites" section. From there you can save a nickname as well as update the quantity you frequently purchase. Items added to this list will automatically be shown in the optimal shipping quantity for UPS Package and can be overridden.
The next time you need to order, log into your account, go to favorites and add the items you need to your cart. Watch this video to see how easy it is to edit and get the most from your favorites list.
Does your company offer samples of your products?
Yes, we offer free samples of most of our jars and lids with the understanding that the customer will pay for the shipping costs. Fragrance oil samples are available at $3.25 per ounce. Please call 717-397-4131 or email csr@fillmorecontainer.com for details on how to complete this.
Does your company sell wholesale?
Yes, we do! Pricing tiers are based on volume purchases and are publicly displayed in the items. If your desired quantity significantly exceeds the largest volume shown on the page, you can email info@fillmorecontainer.com with the item ID's and quantities for consideration.
What is your return policy?
We will gladly accept items returned in like new condition, odor-free and in original packaging within 30 days of purchase less a 15% restocking fee. Exchanges are not subject to re-stocking fee. Customer is responsible for all shipping charges.
To maintain the integrity of our TruScent Fragrance Oils, we do not accept returns or exchanges.
For sanitary reasons, we do not accept returns or exchanges on paper straws.
Do you ship outside of the US?
We do ship ground and freight orders to Canada. However, any and all duty fees, transfer fees are covered by the customer. (We are a US company, so our prices are in US dollars.) Other international shipments must be arranged through a broker or a freight-forwarding service. Once the order is paid, it can be shipped to a port. The broker or forwarding agency takes it from there.
Do you have a store front?
We are not a cash & carry store. All orders are placed (and pick-ups scheduled 48 hours in advance) through our e-commerce website. Our showroom is currently closed, but we hope to open it "by appointment only" in the near future. All of our items can be seen online, and our inventory online reflects what we have in stock in real time.
Are droppers or any other non-consumable items sterile?
No. While jars, lids, fitments, droppers, etc are manufactured in facilities that need to meet some standards, they are not sterile. Manufacturers expect that glassware is cleaned prior to use. More information can be found here.
Do your fragrances or waxes contain parabens?
Our fragrances and candle waxes do not contain parabens. Parabens are preservatives used in water-based products like lotions and creams so they are not found in fragrance oils or wax.
Should I clean my jars before using them for food or candles?
The short answer is yes! Manufacturers expect that glassware is cleaned prior to use. More information can be found here.
Should I sterilize my jars prior canning? When is this needed?
The answer will depend on your product and the process. Please follow this link for insight on what this means, when it is (or isn't) necessary and how to do it.
How do I determine volume or decide whether to use weight or volume on my label?
The answer will depend on your product. Please follow this link for additional information.
What is Rush Processing?
Not to be confused with expedited shipping, Rush Processing ensures that your order moves to the front of the line for fulfillment in our warehouse to be picked, packed, and shipped within one business day. Available for parcel and freight orders (not pick-up orders), Rush Processing carries a $25 fee and has a cut-off time of 11 am EST for same-day shipping; orders placed after 11 am EST will ship the following business day. This does not expedite shipping with the carrier nor guarantee a delivery date. Click here for more information.
What is my ETA?
ETA is the ESTIMATED TIME of ARRIVAL for your order based on in-house processing lead time and the number of days a carrier normally takes to deliver to a commercial address in your selected zip code. Please note that dates are ESTIMATED (not guaranteed) and may take longer if the delivery address is rural, residential, limited access or requires liftgate service. Click here for more information.
Can I reuse my canning lids?
You should not use canning lids in a canning process more than once. More insight can be found here.
How will my jars or bottles be packaged?
Not all glassware manufacturers package products in the same way. We address this in our "How will my Jars & Bottles be Packaged"post.
Can I cancel my order OR change my order?
As stated in your order confirmation email, orders get processed quickly, and canceling or changing an order may not be possible. It depends on how much time has passed since submitting your order. The first step is to immediately contact our customer service team by replying to your order confirmation email. This allows our customer service members to more quickly identify your order. During business hours, you can also call 1-866-345-5527 to increase the likelihood of pausing the process in time. If the lines are busy, be sure to leave a message that includes your order number, the name under which it was placed, and your problem. Outside of business hours, reply to the confirmation email. csr@fillmorecontainer.com with your request and include the same information. Please do not initiate this process through social media platforms. Because of our warehouse team's efficiency, it is likely that your order may be picked and/or packed en route to the shipper. In the case that your order has already been processed in-house, or shipped, it would be treated as a return or exchange; which may include a cost to you. Our website has features designed to make ordering and re-ordering more accurate. Learn more about how to maximize your account tools here to streamline re-ordering and avoid errors.