Our TruScent Fragrance Oils for candles are full strength made-for-soy fragrance oils that have been tested and formulated to perform well with soy wax. Choose the perfect scent for your homemade candle from our wide selection of fragrance oils.
TruScent oils evoke amazing, true-to-life scents. Our 1 oz. sample bottles are the ideal size for trying a new fragrance or to test different fragrance blends. We regularly stock the standard 1 pound bottles of all scents and offer 25 pound drums for most scents. Depending on the fragrance or the season, the drum may not show as an option, but you can email us to see what the lead time may be. You can also use TruScent Fragrance oils for soap and lotion making – be sure to see the article on IFRA Certificates for recommended percentages for these other applications. TruScent fragrance oils are made in the USA.
---
About TruScent Fragrance Oils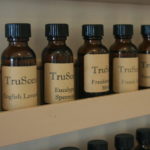 We carry a large selection of Fragrance oils – about 120 currently, and we continue to add new scents regularly. Each fragrance oil offers a description that includes flashpoint, as well as maximum %, uses for Soap or Lotion applications, and Vanillin and/or Ethyl Vanillin percentages. MSDS sheets (Material Safety Data Sheet) are also available for download for your safety records and can be found in the product's "Attached Documents" tab within each fragrance oil product page.
TruScent Fragrances Oils are packaged in Amber bottles with phenolic polycone lids and are available in 1oz, 16oz, and in some cases by the drum (10lb or 25lb; depending on the fragrance). To discuss drum purchasing options, please email Chad@fillmorecontainer.com. 
Browse a few of our fragrance categories below.
Learn about our top-selling TruScent fragrance oils of 2022.
Learn about our top-selling TruScent fragrance oils of 2022.
TruScent Fragrance Oil Reviews
To help you decide on a fragrance, be sure to read customer reviews of TruScent fragrance oils. Want to share your own review? We'd love to hear about your favorite TruScent fragrances.
---
Candle Testing
An experienced chandler will tell you that it takes a tremendous amount of testing in order to arrive at the proper formula – wax type, fragrance, wick type & size, and container. We've created two Candle Making Record Templates to help streamline the process for you because we understand that it can be a daunting task. Read more about candle testing and get the free templates here.

---
IFRA Certificate
The IFRA Conformity Certificate (or IFRA Statement as it is often referred) is a document established by the fragrance compound manufacturer and based on a trust relationship between the fragrance supplier and its customer. The IFRA standards are based on safety assessments by the panel of experts of the Research Institute for Fragrance Materials (RIFM). We request IFRA Standards Conformity Certificates for each of our TruScent fragrance oils because each one has its unique properties. These documents can be found in the product's "Attached Documents" tab.
It is important to understand the IFRA certificate and how to find the relevant information. We explain more about about IFRA how to use the certificate here.

---
Vanillin
Vanillin is one of the components that contribute to the distinct aroma of vanilla. Since the demand for vanilla flavoring has always outweighed the possible supply, much of the Vanillin is synthetically produced. It's important to understand what Vanillin / Ethyl Vanillin is and how it might impact your end product. Read more about Vanillin here.

---
Shop TruScent Fragrance Oils for Candles, Soaps and more
Oils can be purchased directly from our website. We will ship directly to your home or business. Or, if you are located near Lancaster, PA we offer a pick-up option.
Candle Supplies
We carry more than just Fragrance Oils, our large selection of wholesale candle supplies is your go-to for jars for candle containers, square Mason jars, glass tumblers, covers & lids, candle wicks, and clamshell packaging. With top brands like Cargill NatureWax® and Golden Brands, we carry a variety of bulk candle wax options. We also carry candle accessories for your candle making needs such as wick trimmers, candle jar labels, and more. Fillmore Container offers several wholesale and bulk price points with quick turnaround times. Explore our wholesale candle supplies and start saving!