Super large cucumbers are often hard to transform into crispy pickle spears and are often quite seedy, but still have much potential! I recently had some very large cucumbers. My initial plan was to pickle them, but their seedy nature was making that difficult. So, we changed things up a little. After I washed and trimmed them, I used my mandolin to slice as much of each cucumber as I could until the seeds began to interfere with the crispness of the slice. All of these nice slices were transformed into Maw Maw's Cucumber Salad which we'd shared earlier. Yum!
I took the remaining cucumber parts, sliced them lengthwise and scooped out the seeds. These were then cubed for relish! I like a relish in which all of the players can be identified, so removing the seedy watery parts helps to maintain more texture.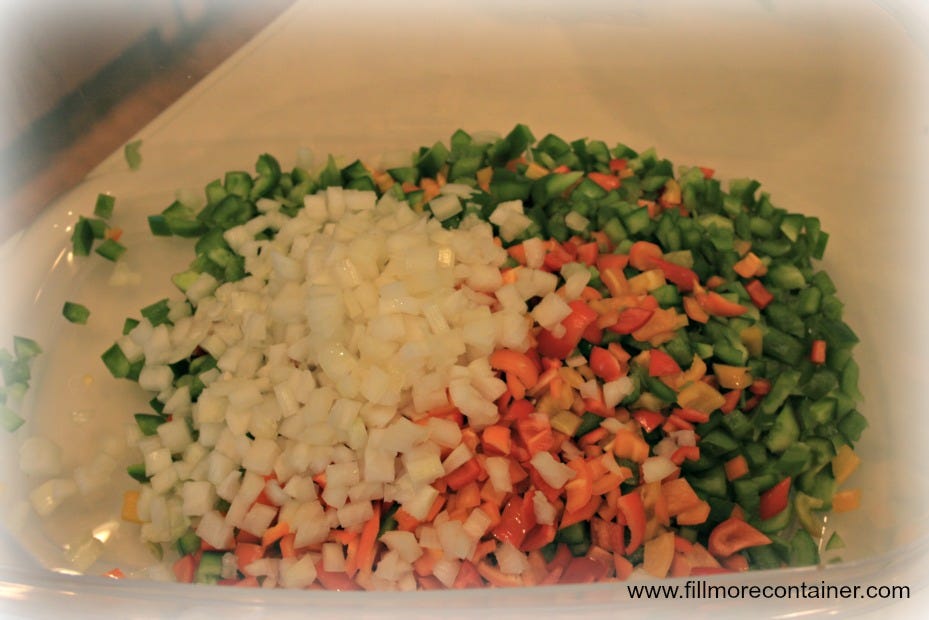 As it turns out, I knew that I'd be short on Peppers for this recipe, so I washed & cubed all of my peppers first to see what ratio of the original recipe I'd be able to make. I ended up with only half of what the recipe called for.
Cucumber Relish – a small batch or a half batch.
Based on the recipe from the Ball Complete Book of Home Preserving
This recipe makes 4 Pints. (You might notice that I only have 3 Pints and a 12oz Jar – I used a small portion as an ingredient in a crockpot chicken meal.)
Ingredients
5 cups cucumbers
2 cups green bell peppers
2 cups red /yellow bell peppers
½ cup onion
¼ to ½ cup pickling salt
1 ½ cup white vinegar
1 ¼ cup sugar
1 ½ tbsp. celery seeds
1 ½ tbsp. mustard seeds
Clean, seed (as appropriate) and finely chop the cucumbers, green & yellow bell peppers and onion.
In a non-reactive bowl, combine the cucumbers, peppers, onions, and the pickling salt and cover it. Let it set in a cool place for about 4 hours.
Transfer into a colander in the sink and rinse thoroughly with cold water for 4 minutes. Drain well, gently press more of the excess water out with your hands, set aside to drain further.
Prepare water bath canner, jars & lids.
In a large non-reactive saucepan, combine vinegar, sugar, mustard seeds & celery seeds. On medium heat, and while stirring, bring to a boil.
Add cucumber, pepper & onion mixture and while stirring, return to a boil. Reduce heat, but maintain a gentle boil for about 10 minutes.
Scoop the relish into warmed canning jars, allowing ½ inch of headspace.
Remove any air bubbles, wipe rims clean, lid the jars and apply rings only to finger-tip tightness.
Place jars into the prepared water bath canner. Adjust water level if needed (you should have at least an inch above the jars) so that the jars are completely covered throughout the process. Bring to a boil and process jars (8oz and 16oz) for 10 minutes. When the time is up, remove from heat and allow to cool for 5 minutes before carefully removing them from the canner.
Place hot filled jars on a towel-lined counter to cool untouched for 12 hours. When jars have completely cooled, remove rings, test the seal and store in a cool dark place. If any of your lids have not sealed, refrigerate it and enjoy right away!