(Updated July 1, 2020)
We don't all have the space in our refrigerators to be squirrelling away "Refrigerator Pickles" to last us the year. Some recipes call for a "pickling agent", but if you're adverse to that, or if you really want to increase your crispy odds, here are some tips and recipes that should keep your crisp-o-meter happy!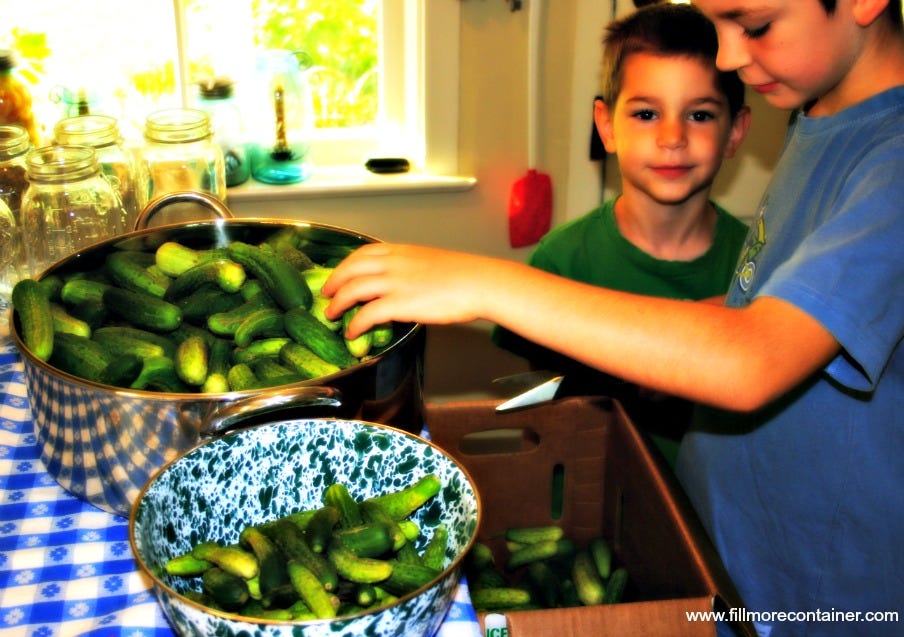 Freshly Picked – pickle them as close to the harvesting as possible!
Smaller is Better – stick with pickling cucumbers that have not grown too much larger than your thumb. Turn those big ones into refrigerator pickles, or relish.
Trim off the blossom end of your cucumbers. While this may seem wasteful, there's an enzyme (pectinase) that will cause your pickles to become soft. Trim about 1/16 inch from that blossom end before pickling. Some people have seen improvements with adding a grape leaf which contains tannins – a substance which is thought to inhibit the pectinase.
Pint or Smaller – try canning in pint jars or smaller – the larger jars will require longer processing which results in a softer end product.
Try Low Temperature Pasteurization Treatment as described here by the National Center for Home Food Preservation. We hosted a class and made Garlic Dill Pickles with this method. You can get the recipe, and read more about low temperature pasteurization here.  Please note that you can only use this method if the recipe indicates that it is appropriate and be sure to monitor temperature carefully!