Kombucha is a fermented tea that has a history that dates back thousands of years. This delicious, healthy beverage is packed with probiotics and antioxidants all in the form of a fermented tea. Kombucha has become a pretty accessible product to purchase at markets and in grocery stores, and we are lucky enough to have a Kombucha taproom near us! If you are clueless about this fizzy health beverage read this – What is Kombucha? For the same reasons we like to preserve our own food, we also like to make our own Kombucha. It's fairly easy to make on your own. We've got the down and dirty basics below.
WHAT'S IN IT?
A basic Kombucha recipe consist of tea, sugar and a SCOBY. A SCOBY is a symbiotic colony of bacteria and yeast —similar to the vinegar "mother". And that's usually were newbies get hung up. "How do I get my hands on a SCOBY?"
You can actually make your own SCOBY. Here are a couple takes on how to do that. We really like what our fermenting friend Phickle says about growing a SCOBY here. The Kitchn also has a video about this here. If you happen to know a friend who brews, they will more than likely have a SCOBY to share!
BREW STYLES
Single Batch Kombucha – Make one batch at a time. This is a good way to start and is a fun way to experiment with different sugar and tea sources, until you find your favorite combination.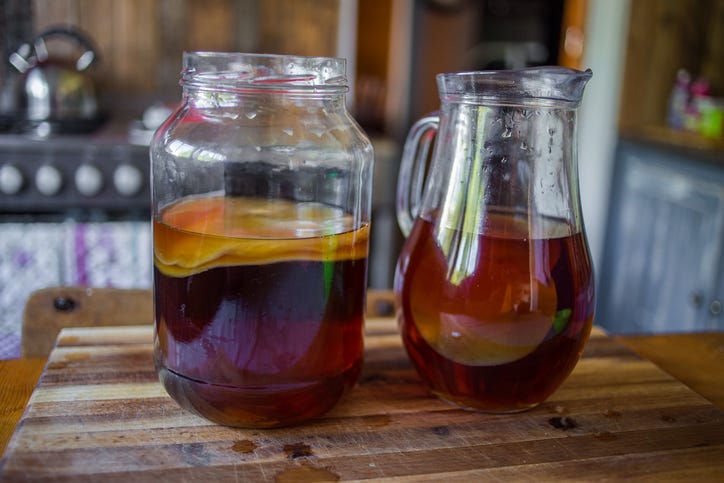 Continuous Brew – After you've mastered the single batch, and identified your favorite tea profile you may want to start a continuous brew system. Clean your vessel every few months and remove excess SCOBY. This is what you need to know about choosing a continuous brew container. (We suggest this one.) You can flavor the kombucha after you draw it off. This is a good solution if you plan to drink kombucha regularly.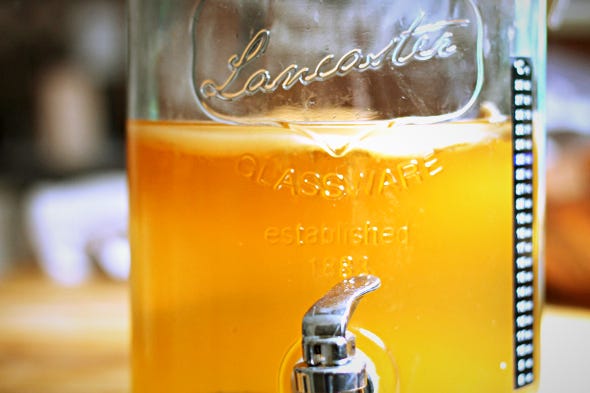 BASIC KOMBUCHA RECIPE

3 quarts water
¾ – 1 cup sugar
2 tablespoons loose tea or about 8 tea bags (use only plain black, green or white tea)
2 cups starter Kombucha from previous batch. Good quality store bought is okay too. (Use unpasteurized and non-flavored)
SCOBY
Heat your water. Add in the sugar and let it dissolve, then add the tea. Once the mixture is cool, remove tea bags, or strain out the tea. Add the cooled tea into a gallon jar, add your starter tea and SCOBY.
Cover it with a tea towel and rubber band. Let it ferment for about a week. Make sure you store the brew out of direct sunlight. There's no need to stir or shake it. Just let it do its thing in the dark, by itself.
Try it after a week and depending your sweetness preference, you can decide when it's to your taste. When you think it's ready, drink and enjoy. Don't forget to save some to use as a starter for your next batch.
ADD FLAVOR
When you remove your Kombucha from your brewing container you can then add flavor with fruits and herbs, and either drink it or bottle it.
FLAVORFUL RECIPES
You can get really creative with your flavors! See some fun recipes below.
Mexican Hot Chocolate Kombucha
BOTTLE IT
By bottling your Kombucha the additional flavors you add to your brew will continue to ferment in individual containers. Drink it or ferment it longer – aka secondary fermentation. The secondary fermentation creates a more complex flavor profile. Additionally, if bottled in an airtight container, you'll attain a good kombucha fizz. Just remember to leave about 2 inches of headspace. Our EZ Cap Swing Top Bottles are perfect for this.
Are you a Kombucha brewer? Tell us your favorite flavor combo in the comments.