Updated March 2023
Linda Ziedrich, our guest blogger, is sharing her blueberry-rhubarb jam recipe. Linda is a Master Gardener and a Master Food Preserver and the author of The Joy of Jams, Jellies, and Other Sweet Preserves, and The Joy of Pickling.
Frozen Blueberries Love Fresh Rhubarb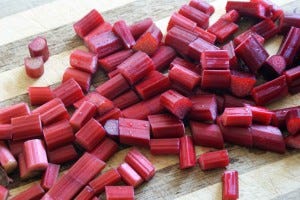 In jams, pies, cobblers, and other sweet treats, rhubarb routinely gets paired with strawberries, for good reasons: Rhubarb and strawberries tend to reach the peak of their seasons together, and strawberries disguise the often lackluster color of rhubarb.
But what if your rhubarb provides stems ready for harvest long before the first strawberries ripen? In this case you can make lovely jam with rhubarb alone, even if the stems are grass-green.
Here's another idea: Check whether bags of last year's blueberries are lurking among the pork chops and pesto in your freezer. If so, it's time to put those berries to use.
In the jam pot, blueberries from the freezer pair well with the first of the season's rhubarb. The rhubarb takes on the deep-blue color of the berries, lends an interesting texture, and balances the berries' high pectin content so you can use minimal sugar and yet avoid a tough jell.
To eliminate the unpleasant fibrousness of cooked blueberries, heat the berries separately and then press them through a food mill. The result will be a lusciously soft, dark jam that seems the essence of blueberry until you notice the tart yet subtle background note of rhubarb.
Supposing no blueberries turn up in your freezer, wait a few weeks. With adequate watering, your rhubarb will still be going strong when the first blueberries ripen.
If the berries are frozen, let them thaw.

In a broad, heavy-bottomed pan, simmer the blueberries, covered, for about 5 minutes. Press them though the fine disk of a food mill.

Combine the berry puree in the pan with the rhubarb, sugar, and lemon juice. Cook the mixture over medium heat, stirring, until the sugar has dissolved. Raise the heat to medium-high, and boil the mixture, while still stirring frequently, until the rhubarb breaks down and a bit of the jam mounds in a chilled bowl, or until the temperature of the mixture reaches 221 degrees F. This should take no more than 10 minutes. Remove the pan from the heat.

Skim the foam from the jam, and ladle the jam into six sterilized half-pint mason jars, leaving 1/4 inch headspace. Close the jars, and process them for 5 minutes in a boiling-water bath.

Remove the jars to a rack or pad, and let them stand undisturbed for 24 hours, after which time the jam should be well set. Store the jars in a cool, dry, dark place.
More Rhubarb Recipes
If you want more rhubarb recipes, read this post.
Here are a few more recipes to keep your jam pot busy year round: (none of these recipes require added pectin.)
Mixed Berry Jam from the Freezer
Triple Crown Blackberry Jam
Pommé (Breton Apple Butter)
Paradise Jelly
Save
Save