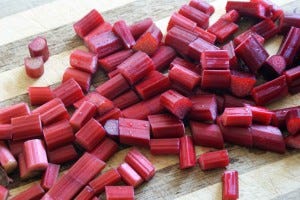 Updated – April 7, 2022
Depending on which growing zone you're in, rhubarb season may already be in full force, or it may just be beginning to show up in smallish bundles at the market. Often, the Red Variety of Rhubarb is most popular – that rosy hue just pops in those gorgeous foody posts- so it's no surprise.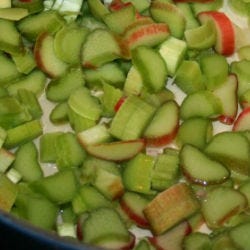 However, did you know that the Green Variety is the more productive one? The color doesn't seem to have an impact on the flavor or sweetness, so if your family really loves rhubarb, you may want to consider the green variety for your garden. If you prefer your preserves to have a little more redness, Martha Zepp, our local Master Canner suggests that you can add a few cranberries or lingonberries.
Rhubarb weds so nicely with many fruits when it comes to preserves. We were so inspired by the delightful Blubarb Jam recipe from Preserving with Pomona's Pectin, that we went digging for more Rhubarb deliciousness! Here are just a few of those lovely combinations that we think will be sure to please the pallet!
Rhubarb Preserves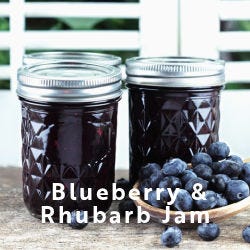 Marisa McClellan's (Food in Jars) generous selection of recipes on her Food in Jars blog is almost always my first stop when it comes to sweet-sided preserves. Sweet Cherry Rhubarb Jam with Pomona's Pectin brings together the perfect blend of sweet while using less sugar. Her Honey Sweetened Rhubarb Compote with Ginger is another great one if you're looking to avoid refined sugar. I made a small batch of this Vanilla Rhubarb Jam last year with my green rhubarb. I was delighted in the taste as well as the way the lighter hue showed off those flecks of vanilla.
We enjoyed this low sugar Strawberry-Rhubarb Jam last year. Linda Ziedrich, author of The Joy of Jams, Jellies, and Other Sweet Preserves, and The Joy of Pickling, shared this Blueberry-Rhubarb Jam recipe with us a couple of seasons ago.
If you're looking for a more traditional larger batch recipe to deal with a surplus of fresh produce, this Strawberry Rhubarb Jam from Simply Canning will make 6 half-pints.

Make a Salad
If eating salads and enjoying them more is one of your goals this summer, you might like this Rhubarb Vinaigrette from Diary of a Tomato or this honey-sweetened Rhubarb Vinaigrette from Dinner with Julie. You can streamline your vinaigrette making if you've got some of this Rhubarb Syrup on hand.
Pickle it!
You might consider adding some Pickled Rhubarb like these Rhubarb Lactopickles from Phickle, or these from Joel at Well Preserved as a sidekick to your salads.
For Dessert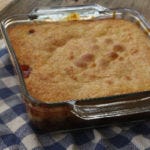 Need to take a dessert to a potluck? Any of these are sure to be a hit! Cherry Rhubarb Cobbler, Rhubarb Pudding Cake, Strawberry Rhubarb Crisp Bars.
If you want to learn more about growing rhubarb in your garden, read this. Get more tips on preserving rhubarb here.