Any successful chandler will attest to the importance of dedicated testing and accurate record-keeping for candle making. We've created two Candle Making Record Templates to help streamline the process for you because we understand that it can be a daunting task.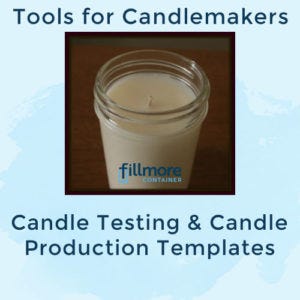 Candle Production Record Template
Candle Testing Record Template
Candle Testing is Essential
We can't give you a cookie-cutter formula for your candle. We understand that new candle makers do not want to hear that we can't walk them through the process. The simple truth is each chandler needs to do their research and determine what type of product they desire to create for their customers.
Sometimes you can find a seasoned chandler who is willing to share some trade secrets, but not very often. Why? Every candle crafter has a slightly different idea of their ideal candle. They have spent countless hours testing. This may sound dramatic, but it isn't unheard of for someone to continue testing a certain fragrance for over a year to get it "perfect" because they care that much about the performance of their candle. They want to create a quality product that stands out in the crowd and creates loyal customers.
Testing is required because every candle has different components that will impact the performance of that candle. These components are typically the type of wax, any additives, particular fragrance oil for candles, dyes, type of wick, the diameter of the container, and any other decorative items. Each variable needs to be tested. This is where our candle-making record templates are useful. As you do testing, you will want to use the Candle Testing Record Template. This assists you in recording the important factors and variables of the candle in addition to recording the evaluation of the performance of the candle
Candle Making and Testing Tools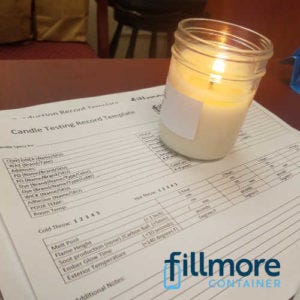 We provide several tools to help guide you as you add products to your line or as you get started, but ultimately, you will need to test and decide which is best for you.
Candle Making Resources
Get more resources for candle making on our Candle Makers Resource page. You will find information about what Fillmore Container has to offer in the way of supplies, tips, guides, and templates.
Craft Server is also a safe place to learn from other chandlers. It's a great forum for new candle makers as well as seasoned makers looking for problem-solving suggestions.