This holiday season, we thought it would be fun and fitting to shine the spotlight on some of our fantastic Fillmore Container customers and the wonderful products they've been crafting.
Our Fillmore Container Team members are sharing a few of their favorite products. We encourage you to support small businesses – local and online – during this upcoming season of sharing and gifting. Maybe you'll discover a new favorite yourself!
Ben's Picks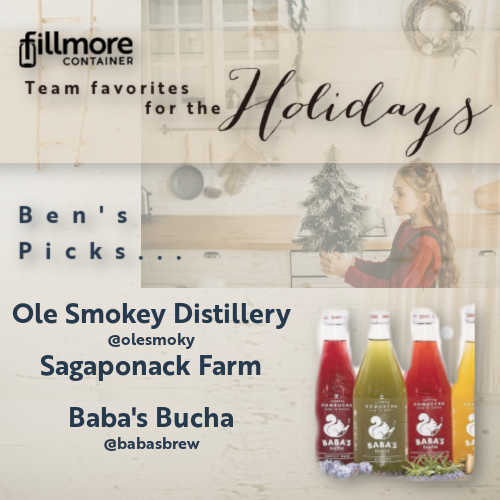 Ben's favorites are:
Sagaponack Farm makes world-class spirits on a 150 acre 6th generation farm on the eastern end of Long Island, NY. Spirits include a Potato Vodka, Wheat Vodka, Single Spud Whiskey and a Rhubarb Liquour.
Ole Smoky Distillery Tennessee's first legal moonshine. Located in Gatlinburg, Tennessee, the Distillery offers more than 17 popular varieties including, Moonshine Pickles – dill pickles, pickled in moonshine.
Baba's Brew a fermentation nano-brewery selling local, organic, sustainable and traditional Kombucha since April 2015. Favorite flavors include Flower Power, Bee's Knees and Purple Rain.

---
Larry & Peggy's Picks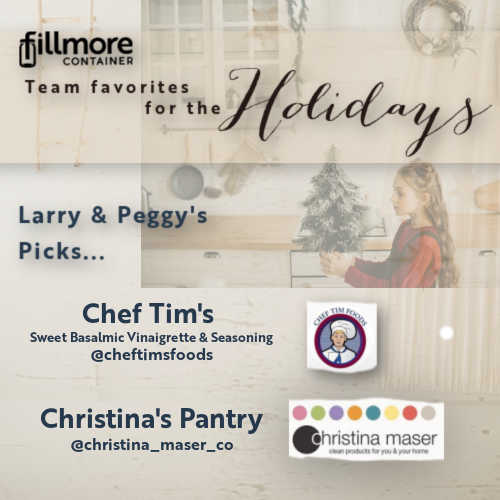 Larry & Peggy's favorites are:
Chef Tim's Sweet Balsamic Vinaigrette & Seasoning is a deliciously sweet balsamic vinaigrette made with olive oil and aged vinegar of Modena with accents of garlic and black pepper. It's delicious on roasted veggies!
Christina's Maser Co. offers a wide range of products that are entirely handmade with all-natural ingredients and sourced locally in Lancaster, PA whenever possible. A favorite from Christina's Pantry products is Raspberry Shrub!
---
Jack's Pick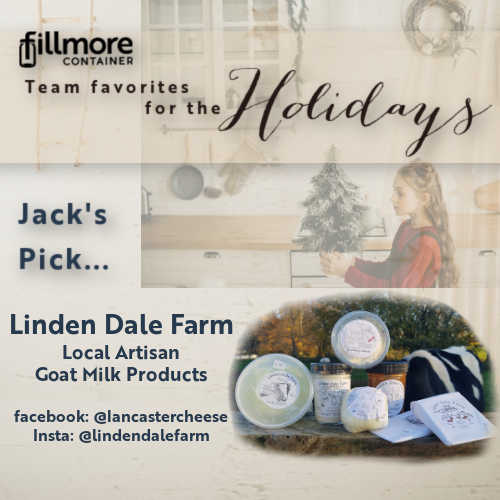 Jack's favorite is:
Linden Dale Farm is a 7th generation family goat dairy farm located in Lancaster County, Pennsylvania. The farm produces various fresh and aged cheeses, goat milk yogurt, bottled milk, as well as pasture-raised goat meat. Linden Dale's Chèvre, french-style, fresh lactic curd goat cheese, is a favorite!
---
Kim's Picks
Kim's favorites are:
Kim's picks are all about the heat…
Delaware Sauce Co. has an award-winning EagleWingz Brand Hot Sauce. This local Delaware company has a variety of delicious sauces that are all really good!
Life Moments Candle Co. started making candles back in 2016 and now has a shop in Lititz, PA. Their hand poured soy wax candles are meant to inspire you with the moments and memories only life could ever truly encourage. Check out their Christmas collection.
Fathead peppers is a family company whose mission is to deliver the perfect pepper made in the USA. Each Fathead Gourmet Pepper is hand stuffed with aged sharp provolone cheese and its' complimentary ingredients. The hot cherry peppers then marinate in a secret blend of oils and seasonings. Check out all the peppers here.
---
Kent's Pick
Kent's favorite is:
Sugar Shack Candles are hand-poured, hand-labeled, and hand-packaged by their dedicated team. Shop their best selling candles.
---
Josh's Pick
Josh's favorite is:
Josh doesn't miss a chance to visit Black Draft Distillery when he's in West Virginia! As the first grain-to-glass craft distillery since the prohibition in Martinsburg, WV, they feature quality moonshine, bourbon, and vodka. A few of their terrific flavors include Rise & Shine Coffee, White Julep Moonshine, and Black Draft Vodka.

---
Michele's Picks
Michele's favorites are:
Shrub's from
Christina Maser Co
. are a hit with Michele's family. Delicious Shrub flavors include red raspberry, blueberry, and strawberry.
Ghee from
Simply Ghee
is also one of Michele's favorites. The ghee gals always knock it out of the park with their unique variety of
Simply Ghee
products.
Christina Maser Co. and Simply Ghee can both be found online, but if you are local to Lancaster, PA – head to Lemon Street Market to stock up on Michele's favorites.
---
Lisa's Picks
Lisa's favorites are:
For Lisa, a repeat candle purchase is a meaningful thing since candle performance – the quality of the burn, the hot throw (fills the house without being over-powering – she has a sensitive smeller), and the style of the container are all very important to her and her family.
Candles poured by these 3 chandlers – all with distinctly different style & focus- have been burning in Lisa's home and wrapped for gifting many times!
Wireback Candles has been hand pouring soy candles in Lancaster, PA since 2014.
MNK Candles has created its candles with eco-friendly materials – Natural USA Farmed Soy Wax, Phthalate Free Fragrance/Essential Oil Blends, and Cotton Wicks.
Fontana Candles offer a variety of clean-burning candles made with beeswax, coconut oil, wooden wick, and essential oils. Fontana Candles were named the Best New Natural Living Product of 2020 and is now the first candle to be certified as MADE SAFE®!
---