This holiday season, we thought it would be fun and fitting to shine the spotlight on some of our fantastic Fillmore Container customers and the wonderful products they've been crafting.
Our Fillmore Container Team members are sharing a few of their favorite products. We encourage you to support small businesses – local and online – during this upcoming season of sharing and gifting. Maybe you'll discover a new favorite yourself!
Ben's Picks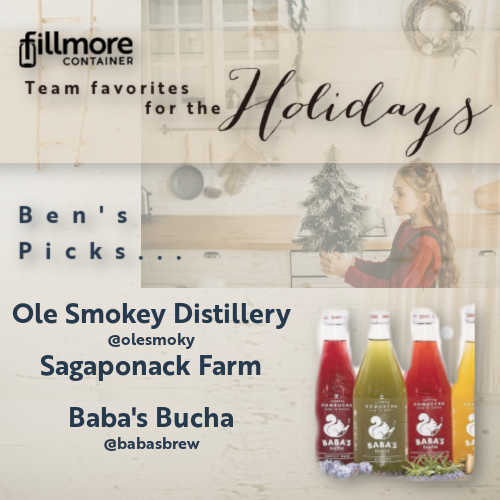 Ben's favorites are:
Sagaponack Farm makes world-class spirits on a 150 acre 6th generation farm on the eastern end of Long Island, NY. Spirits include a Potato Vodka, Wheat Vodka, Single Spud Whiskey and a Rhubarb Liquour.
Ole Smoky Distillery Tennessee's first legal moonshine. Located in Gatlinburg, Tennessee, the Distillery offers more than 17 popular varieties including, Moonshine Pickles – dill pickles, pickled in moonshine.
Baba's Brew a fermentation nano-brewery selling local, organic, sustainable and traditional Kombucha since April 2015. Favorite flavors include Flower Power, Bee's Knees and Purple Rain.

---
Larry & Peggy's Picks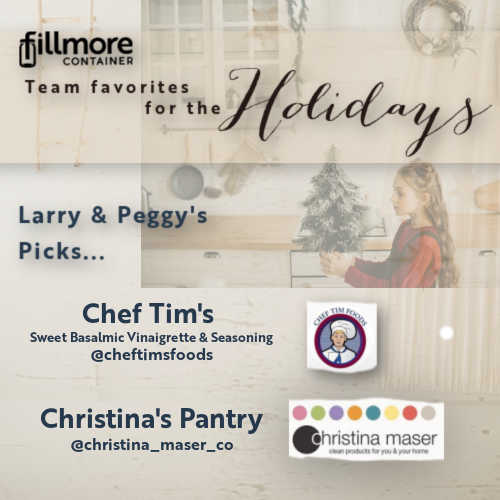 Larry & Peggy's favorites are:
Chef Tim's Sweet Balsamic Vinaigrette & Seasoning is a deliciously sweet balsamic vinaigrette made with olive oil and aged vinegar of Modena with accents of garlic and black pepper. It's delicious on roasted veggies!
Christina's Maser Co. offers a wide range of products that are entirely handmade with all-natural ingredients and sourced locally in Lancaster, PA whenever possible. A favorite from Christina's Pantry products is Raspberry Shrub!
---
Jack's Pick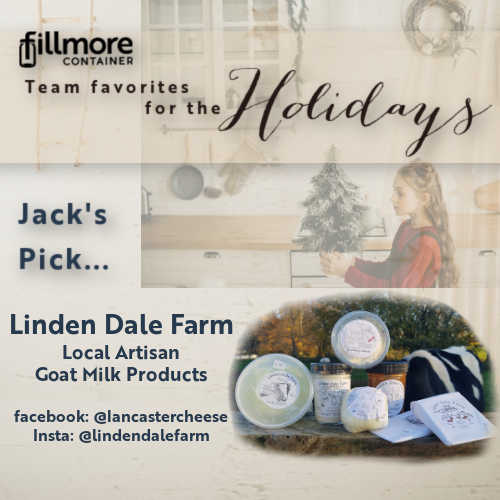 Jack's favorite is:
Linden Dale Farm is a 7th generation family goat dairy farm located in Lancaster County, Pennsylvania. The farm produces various fresh and aged cheeses, goat milk yogurt, bottled milk, as well as pasture-raised goat meat. Linden Dale's Chèvre, french-style, fresh lactic curd goat cheese, is a favorite!
---