We are excited to introduce the NEW Ball Collection Elite Amber Glass Mason Jars. The new wide mouth jars will help protect your preserved food from harmful food-damaging UV rays. Amber glass blocks 99% of UV rays, allowing your preserves to be shelf stable for up to 18 months. The jars can be used for home canning, storage of herbs, spices, coffee or tea, decorations or gifts.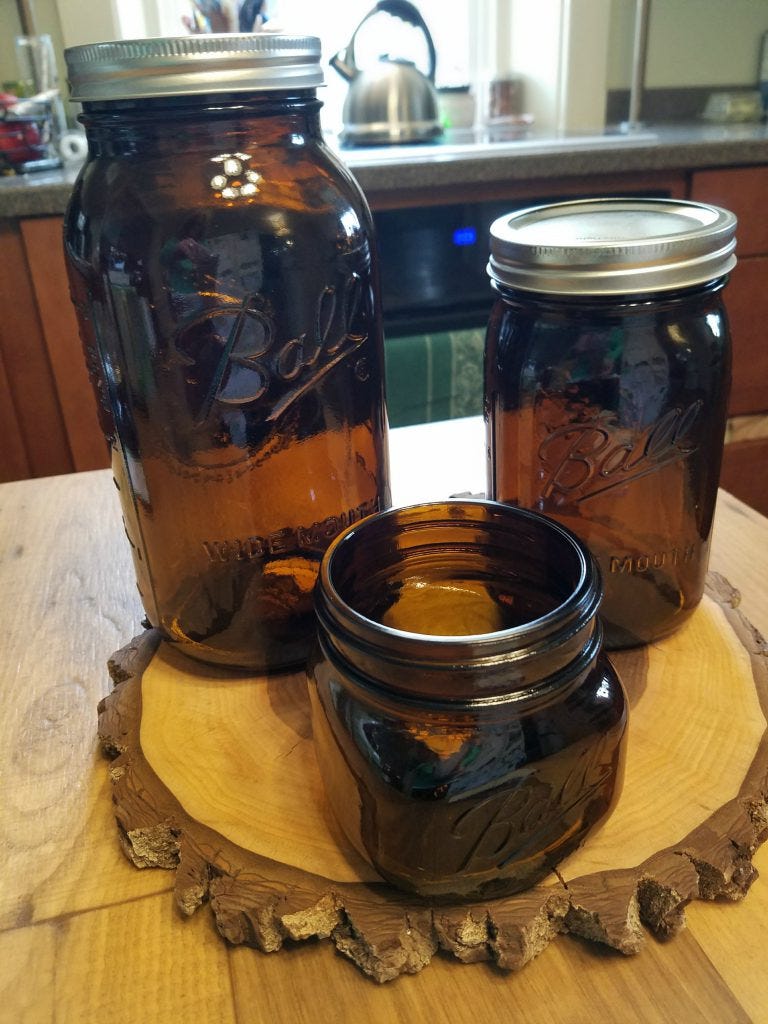 We're so excited about these new amber mason jars from Ball that we are giving away a few cases of them. (See the giveaway details at the end of the post.)
We love the rich amber hue, but mostly we love that the jars offer a unique property to protect our preserves longer. The wide mouth jars are available in 16 oz., 32 oz., and 64 oz. They are sold in cases of 4 with Suretight bands and lids and they are MADE in the USA.
Why is Amber Glass Better?
In addition to protecting fruits and vegetables, amber glass is actually the best glass for storing extracts, oils, home brews, bitters, specialty drinks and other liquids. Because of the powerful UV protection, we carry a wide variety of other amber glass jars. Our Amber Boston Round glass containers are available in 1 oz., 2 oz., 4 oz., 8 oz., 16 oz., and 32 oz. The PolyCone Lined Phenolic Caps used for these jars form an exceptionally tight seal and provide a good chemical barrier too. For those that have precious oils they want to keep protected the 1 oz. and 2 oz are great storage solutions.
Our customers who make candles and bath & body products tend to use our 4 oz., and 9 oz. straight-sided jars. They work nicely for light sensitive products.
We also carry EZ Cap jars and Loop Jug amber jars which keeps home brews and Kombucha protected longer. You can read more about the benefits of Amber jars here.
The Giveaway
Three lucky winners will get to pick one case of the new Ball Collection Elite Amber jars. Winners get to pick which jar they prefer. Use the Rafflecopter widget below to enter. Good Luck!