(Updated – September 8, 2020)
Honey has a long history of being the favorite natural sweetener, so it's resurgence into preserving recipes isn't surprising.
It's a natural, much healthier alternative to processed sugar or artificial sweeteners. Its supporting role as a sweetener allows the flavor profile of the fruit or other ingredients to shine through instead of the super sweetness of sugar.
Substituting Honey for Sugar with Pomona's Pectin: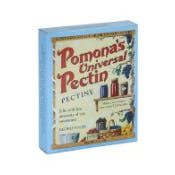 If you're familiar with Pomona's Pectin, you know that there are 2 parts; a liquid – calcium water (that you've already made using water, according to the directions on the packet) and pectin powder. The powder is what gets incorporated to the sweetener of choice. When you're substituting honey, you simply combine the pectin powder with the honey & mix well before you add the honey to your fruit.
Important things to keep in mind:
Honey is (believe it or not!) a stronger sweetener than sugar, so if you're goal is to replace the sugar with honey, ¾ cup honey will equal 1 cup sugar.
Your Jam color my darken more with honey sweetened recipe, but they should still last at least a year in the jar, if properly sealed. Sugar does a better job in maintaining that brighter shade – so if you're really particular about the color of your jam, it's something to consider.
Pay attention to the type of honey that you're purchasing or planning to use. Most apiaries will label their honey clearly with the type of honey – and the source of the botanical flavor source – such as clover, wild flower or alfalfa and so forth. For preserves, a mild honey is often recommended.
Once you open your honey-sweetened preserves, you can experience a shorter refrigerator life. Here are some suggestions – like with most jams, jellies & preserves – consider how quickly your family or household will consume that opened jar and go from there. If you don't consume it quickly, or if you enjoy having 5 jam jars going at a time, go with some smaller jars like these. Do your best to avoid contamination – try to use a clean knife or spoon for scooping jam and resist spreading it and then double dipping.
Honey does not react with pectin in the same manner in which sugar will in order to create the "set". In light of that, only pectin formulations that do not require sugar; such as Pomona's Pectin or sugar-free pectin are recommended.
It is not recommended to feed honey to children under 1 year of age, or who have compromised immune system without the approval of your pediatrician.
Recipes
Try these honey jam/butter recipes.
Pear Vanilla Honey Jam
Ginger Honey Pear Butter
Strawberry Rhubarb Jam with Honey
More honey sweetened preserves.
We also have a sweet line of honey jars!
More Resources
Marisa McClellan's book, Naturally Sweet Food in Jars, has an entire section devoted to recipes that use honey as the sweetener. You can find more honey sweetened recipes on her blog, Food in Jars.
Pomona's Pectin also has a great book – Preserving with Pomona's Pectin and a website with tips on using honey with its pectin, as well as some honey sweetened recipes using Pomona's pectin.