(Updated May 11, 2020)
Our friends at Pomona's Universal Pectin wanted to share this Strawberry-Rhubarb Jam recipe with us. The Strawberry-Rhubarb Jam is a low-sugar or low-honey cooked jam made with Pomona's Pectin. It is an early summer classic – nice combination of tart and sweet. Feel free to use other sweeteners that measure like sugar or honey in this recipe. For example, you can use a stevia product that measures like sugar. You can also use a different liquid sweetener, like agave or maple syrup. We enjoyed the jam with some garlic chevre on flat bread. Yum!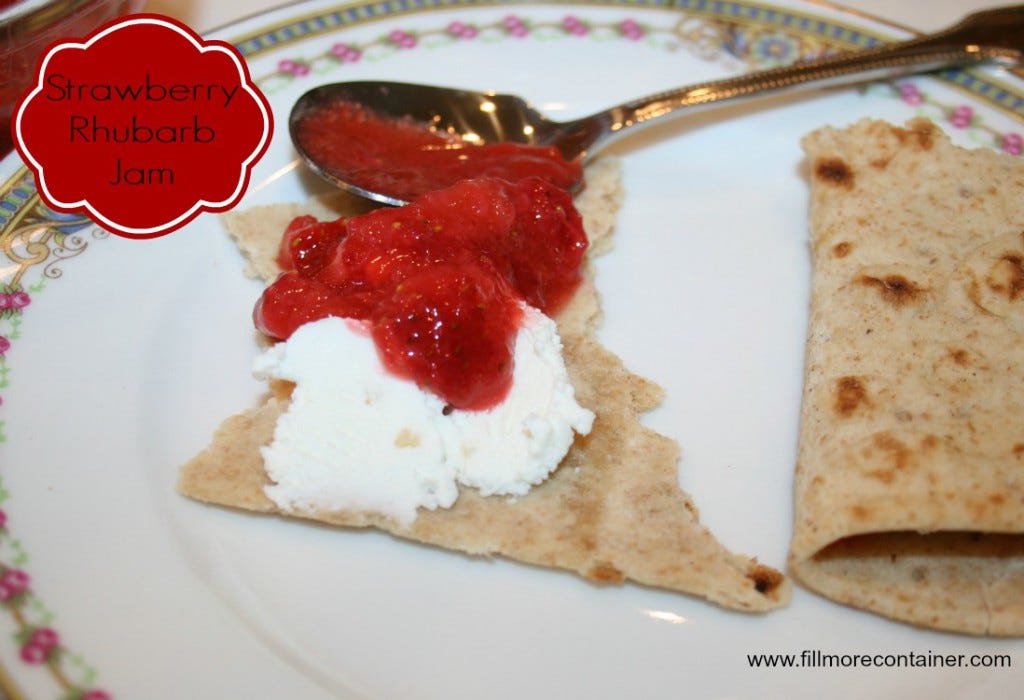 We cut back on the sugar by ½ a cup of sugar (only used 1 ½ cups sugar) and it was sweet enough for us. We wanted to get more of the real fruit taste, and less sweetness. We've made a note to try and cut the sugar back even more next time we make this recipe, since it was still sufficiently sweet, even with our first-round modification. We also cut back on the pectin too, we only used ½ a teaspoon of pectin, we wanted a softer jam that was more of a spreadable preserve, so it was perfect for us. However, we opened up a jar to test the set several days later, and I'd recommend using the full amount of pectin suggested in this recipe – especially if you want a notable set. We are happy with our soft jam, but we know others like a firmer set.
Strawberry-Rhubarb Jam
Yield: about 5 cups
Before You Begin:
Prepare calcium water. To do this, combine ½ teaspoon calcium powder (in the small packet in your box of Pomona's pectin) with ½ cup water in a small, clear jar with a lid. Shake well. Extra calcium water may be stored in the refrigerator for future use.
Calcium water is a solution you make with water and the monocalcium phosphate powder (food-grade rock mineral source) that comes in its own packet with every purchase of Pomona's Pectin. The Pomona's Pectin directions tell you how to make calcium water with the calcium powder. Pomona's Pectin recipes call for calcium water because the pectin is activated by calcium, not by sugar. For more information about calcium water, please visit the FAQ page of the Pomona's Pectin website.
Ingredients:
2 cups mashed strawberries (about 4 cups whole strawberries)
2 cups cooked rhubarb (chop rhubarb, add a little water, cook until soft, drain liquid off, measure)
2 teaspoons calcium water
2 Tablespoons lemon juice
½ cup up to 1 cup honey or ¾ cup up to 2 cups sugar
2½ teaspoons Pomona's pectin powder
Directions:
1. Wash jars, lids, and bands. Place jars in canner, fill canner 2/3 full with water, bring to a boil. Turn off heat, cover, and keep jars in hot canner water until ready to use. Place lids in water in a small sauce pan; cover and heat to a simmer. Turn off heat and keep lids in hot water until ready to use.
2. Wash, remove hulls, and mash strawberries.
3. Prepare rhubarb (cook until soft with a little water).
4. Measure fruit and add into saucepan with cooked rhubarb.
5. Add calcium water and lemon juice and mix well.
6. Measure sugar or room temperature honey into a bowl. Thoroughly mix pectin powder into sweetener. Set aside.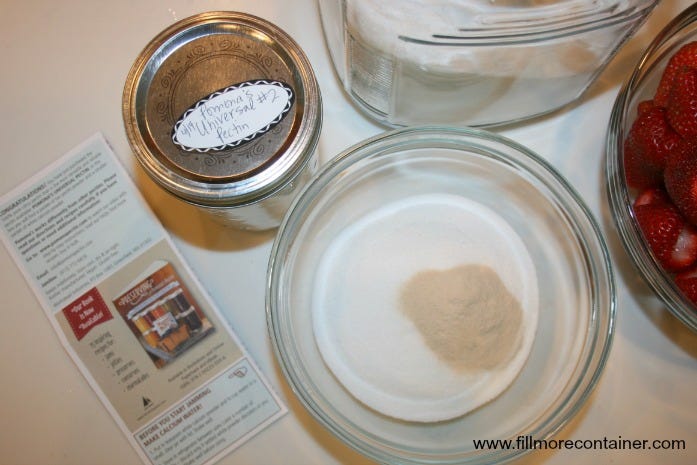 7. Bring fruit mixture to a full boil. Add pectin-sweetener mixture, stirring vigorously for 1 to 2 minutes to dissolve the pectin while the jam comes back up to a boil. Once the jam returns to a full boil, remove it from the heat.
8. Fill hot jars to ¼" of top. Wipe rims clean. Screw on 2-piece lids. Put filled jars in boiling water bath canner and cover. Boil 10 minutes (add 1 minute more for every 1,000 ft. above sea level). Remove from water. Let jars cool. Check seals; lids should be sucked down. Consume within 1 year. Lasts 3 weeks once opened and refrigerated.

Note: If you're not sure if your jam is sweet enough, taste it after the pectin is dissolved and jam has come back up to a boil. Not sweet enough? Add more sweetener and stir 1 minute at full boil.