We've been looking forward to Marisa McClellan's latest creation; Naturally Sweet Food in Jars; for quite some time and are thrilled to have added it to our Preserving Library along with the original Food in Jars and Preserving by the Pint.
Marisa McClellan is a food blogger, cookbook author, and canning teacher based in Center City Philadelphia. In addition to her books, she has written for publications like Vegetarian Times, USA Today, Parents Magazine, The Sweethome, Food Network, Serious Eats, The Kitchn, Grid Philly, Saveur, Edible Philly, and Table Matters.
Marisa also co-hosts a podcast dedicated living a food-focused life called Local Mouthful. Find more of her jams, pickles, and preserves (all cooked up in her 80-square-foot kitchen) at foodinjars.com.
While this book is certainly easy on the eyes and could make a lovely addition to your countertop or coffee table, we're pretty sure that it will quickly be given lots of love, complete with dog-eared favorites, post-it-notes, penciled-in batch conversions, and perhaps some sticky spots.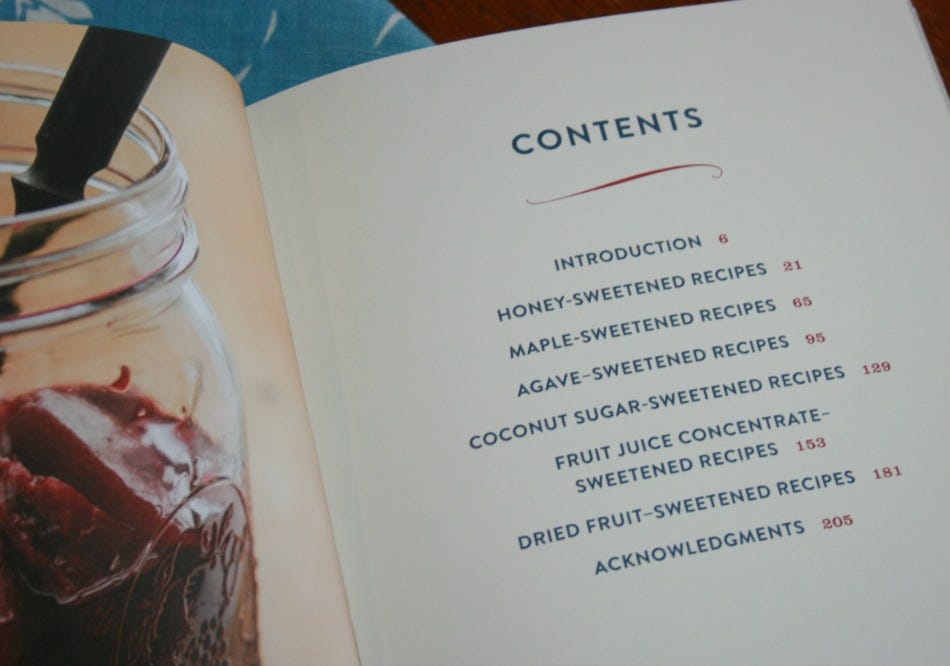 It is packed with recipes that do not include refined sugar – which is a big deal if you love preserves, but wish to reduce or remove sugar from your diet. The book is organized by sweetener/sugar alternatives. Many of her jam recipes utilize Pomona's Pectin – which is the perfect choice when adjusting the amount or the source of sweetness. The book is ideal for those who prefer to sweeten their foods with naturally occurring sugars from fruit juices or date paste, rather than refined or processed sweeteners, all without compromising taste or safe canning practices.
Marisa also shares some of her favorite recipes that are not preserves, but one which put preserves into action, like this Maple Applesauce Cake.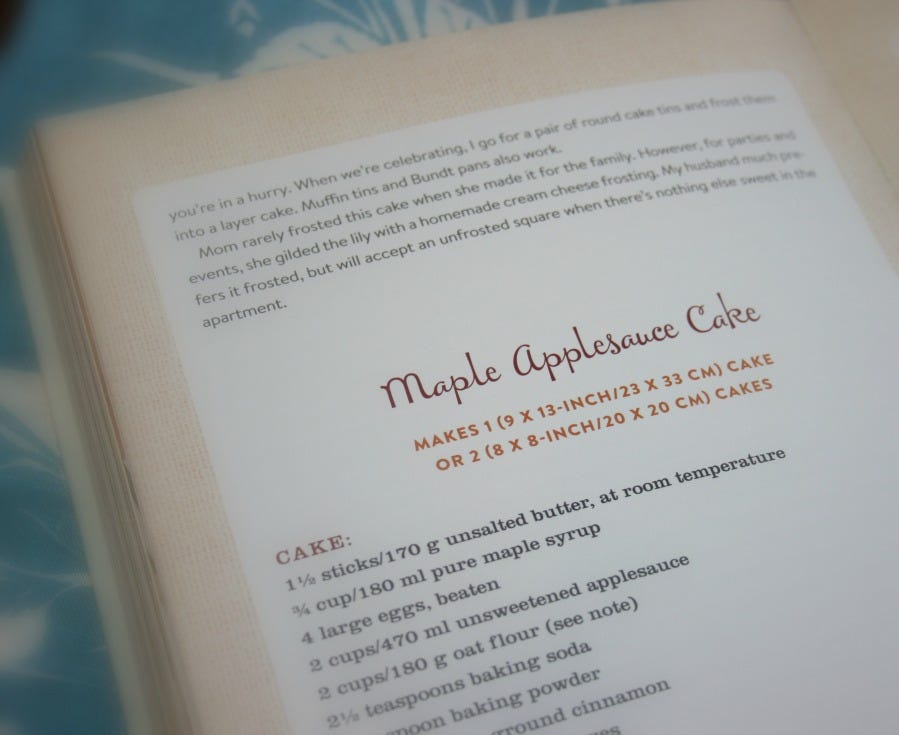 The book also includes some fun condiment staples, such as Sriracha-Style Hot Sauce with honey, Date Pancake Syrup with maple, Cantaloupe-Basil Jam and Marinated Multicolored Peppers with agave, and Fennel and Parsley Relish with fruit juice.
Our local orchard, Kauffman's Fruit Farm was running some great prices on apples earlier this month, so taking a strong cue from my kids' taste buds, I landed on Marisa's Chunky Spiced Applesauce as our feature recipe.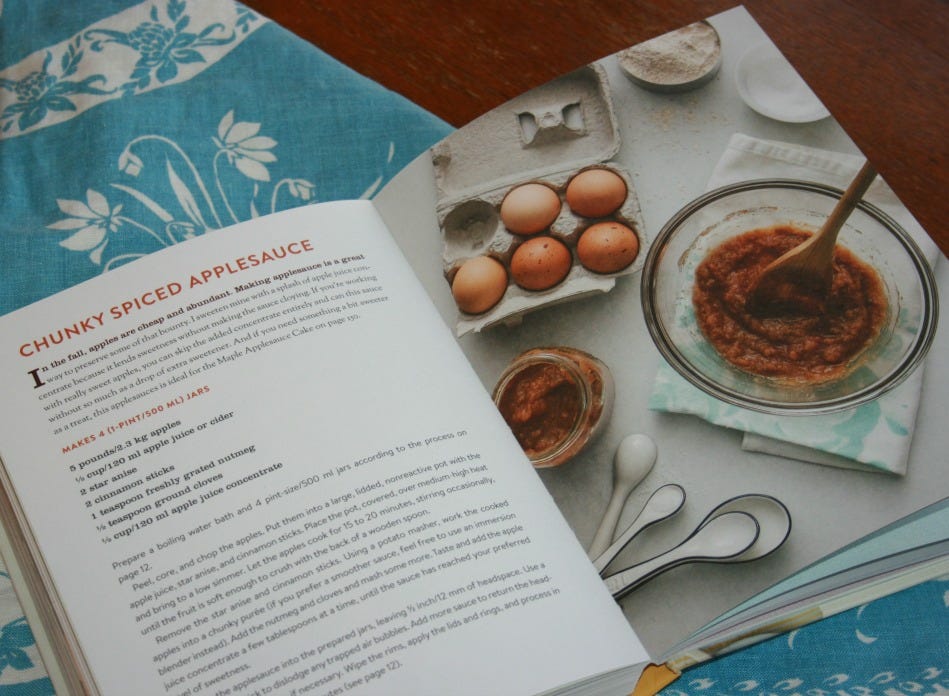 Chunky Spiced Applesauce
"Recipe reprinted with permission from Naturally Sweet Food in Jars © 2016 by Marisa McClellan, Running Press, a member of the Perseus Book Group."
In the fall apples are cheap and abundant. Making applesauce is a great way to preserve some of that bounty. I sweeten mine with a splash of apple juice concentrate because it lends sweetness without making the sauce cloying. If you're working with really sweet apples, you can skip the added concentrate entirely and can this sauce without so much as a drop of extra sweetener.
Makes 4 (pint/500 ml) jars
5 pounds/2.3 kg apples
1/2 cup/118 ml apple juice or cider
2 pieces star anise
2 cinnamon sticks
1 teaspoon grated nutmeg
1/2 teaspoon cloves
1/2 cup/118 ml apple juice concentrate
Prepare a boiling water bath and 4 pint/500 ml jars.

Peel and chop the apples. Put them into a large, non-reactive pot with the apple cider, star anise, and cinnamon sticks and cover. Set the pot on the stove over medium-high heat and bring to a low simmer. Let the apples cook for approximately 15 to 20 minutes, stirring occasionally, until the fruit is soft enough to crush with the back of a wooden spoon.
Remove the star anise pieces and the cinnamon sticks. Using a potato masher, work the cooked apples into a chunky puree (if you prefer a smoother sauce, feel free to use an immersion blender instead). Add the nutmeg and cloves and mash some more. Taste and add the apple cider concentrate a few tablespoons at a time, until the sauce has reached your preferred level of sweetness.
Spoon the applesauce into the prepared jars, leaving 1/2 inch/12 mm of headspace. Use a chopstick to ease out any trapped air pockets and add more sauce to return the headspace to the proper levels, if necessary. Wipe the rims, apply the lids and rings, and process in a boiling water bath canner for 15 minutes.
TIP – if you have a tea ball, or a small swatch of cheese cloth, I'd recommend putting your star anise in it to contain those little seeds if they get dislodged at some point. It's much easier to simply pull that and your cinnamon stick out that way instead of fishing around for pieces.
We canned the first batch – even canned some in our new adorable Ball 8oz Collection Elite Jam Jars to send along in their lunches.
Later that week, we actually made another batch for dessert! We enjoyed it warm – right off of the stove – and it quickly disappeared into hungry bellies! The flavor combinations and its chunky nature is reminiscent of stewed apples…delish!
Save
Save
Save
Save
Save