We wrapped up our Farm Show week with a spicy batch of Crock Pot Apple Butter. The response from those sampling it was so great that we thought we'd share the recipe.
One of the lovely things about apple butter is that is can really serve as a blank slate – so this is really less of a "recipe" and more of a way to add some variation to your apple butter.
This year, I'd brought along a bushel of incredibly tasty and large Cameo Apples from Cherry Hill Orchard. Friday morning, we quartered, and cored enough apples to completely fill my large crock pot. (We peeled about half of them – since we were sharing samples and I wasn't sure how they would cook down.)
I added ½ a cup of Apple Cider to avoid scorching and started the crock pot on high in order to get the apples softened so the lid could sit properly.
After the apples began to warm & soften, I added a couple of cinnamon sticks and reduced the crock pot to the low setting. I stirred it occasionally to encourage further softening and because I was kind of stuck there at the booth.
As I was preparing for my other canning demos that morning, I had my vanilla beans and nutmeg out and thought that they'd make lovely additions to the apple butter. So, in went the seeds and the pod of 1 vanilla bean and a bit of freshly grated nutmeg.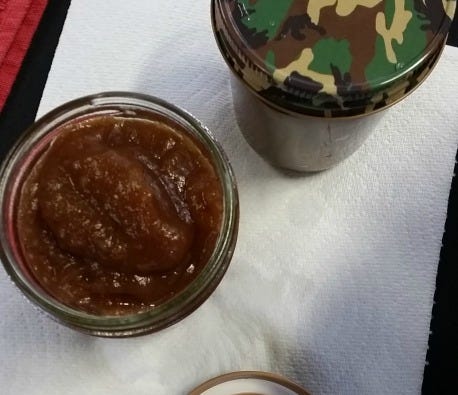 Before heading out for the night, I pulled out the cinnamon sticks and the vanilla pod, used my immersion blender to break up the peels and bring the mixture to a smooth consistency and returned the cinnamon & vanilla pod. I double checked that it was on the "low" setting, placed the lid across the top so steam could escape.
The next morning, I returned to a much reduced amber colored butter. The last ingredient I add is the sweetener because I really want the other flavors to shine and wish to reduce the amount of sugar whenever possible. I really enjoyed the tart flavor, but wasn't sure that it would be enjoyed by all, so I added 2/3 cup of brown sugar.
After incorporating the sugar, I prepared my jars and water bath, ladled the apple butter into 8oz jars, capped and processed in the boiling water bath for 10 minutes.
My one crockpot of apples yielded about 6 half-pint jars.
Get more Apple Butter recipes here, and put that apple butter to work with these 'preserves in action' recipes.