Last week we posted our favorite home brewed summer tea recipes. This week we thought we'd share some fun we had with a fruit and herb infused water bar. It was a hit at a recent gathering!
We equipped each our our guest with the very own Mason Jar Handled Mug and Paper Straw. We gave the option of water or tea in our Beverage Dispensers. Then we used the Elite Ball Pint Widemouth Jars to store our infusions because they were user friendly while allowing the freshness of the contents to show clearly. We cut the mint as close to the start of the event as possible, washed it in very cold water, and refrigerated the jars until our guests arrived to maintain freshness.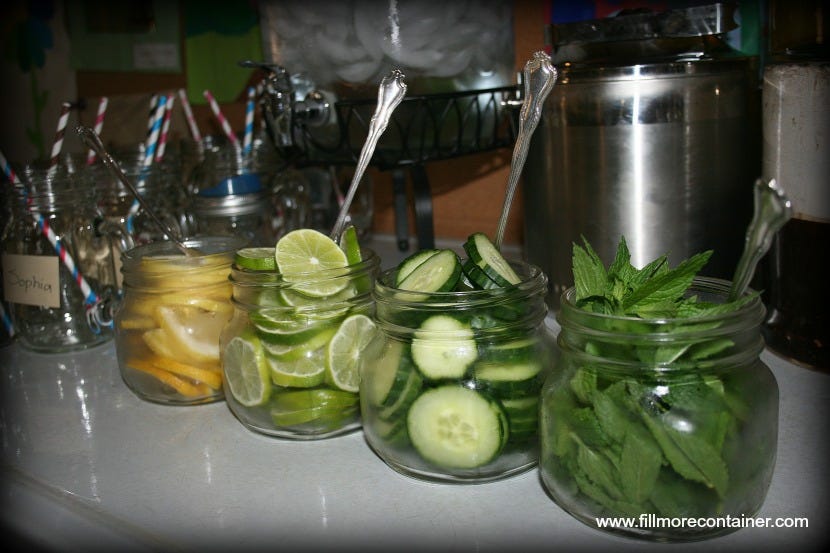 Here's some of our favorite infusions:
The SWEET route – Fruits like sliced strawberries or peaches, pitted cherries, watermelon, honeydew or cantaloupe cubes, raspberries or other edible berries that are in season, slices of other citrus add a sweet freshness. You may want to give whole berries a little pinch before adding to your glass so that you can enjoy the flavor more quickly.
The SAVORY route – Sprigs of rosemary, basil, thyme, lovage or even a few burnet leaves add some depth.
Try pairing some thin slices of ginger for a little zing, cucumber for that cool taste or some fennel fronds to add a touch of licorice.
Of course, this is just the tip of the iceberg when it comes to infusing fresh flavors into your water!
What's your favorite flavor combination?
For more fun drink ideas check out our Pinterest board.