Here in the Northeast as we head into the thick of winter we are always wondering when the next nor'easter is headed our way. Many prepare by stocking up on milk and bread, but we get our Mason jar mug lanterns ready, in anticipation of a power outage.
We love them because they are easy to carry from room to room, if needed. They burn clean, and of course, they are pretty to look at when they are lit or even when they are just awaiting their next use.
Although you don't need a power outage to light up these pretty lanterns, we thought it was a good excuse to give you a chance to win your own Mason Jar Mug Lantern Kit.
But first, let's tell you how to make these little beauties!
Gather filler for your jar, maybe some fresh holly, evergreens, or holiday décor to represent the season. (Need some filler ideas – check out the comments on this

blog post

)
Place bamboo wick tunnel in the jar.
Fill the jar with your filler.
Fill the jar with paraffin oil leaving about ¾ inch to the top.
Carefully thread your wick and glass wick tube through the lid.
Place the wick in the bamboo tunnel and screw it in place.
For more in depth directions we wrote a detailed "How To" blog post here.
The Giveaway – A Mason Jar Mug Lantern Kit – includes: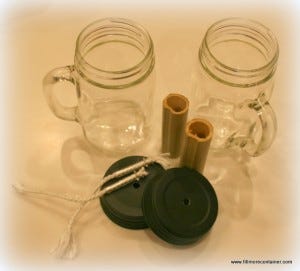 2 Gold lids (for storage)
2 Bamboo wick tunnels
2 Pre-drilled olde tyme lids.