Bath Soaks, Salts and Tub Teas are great gifts for any time of the year. They're easy on the budget, usually involve simple ingredients and in most cases, require no special equipment. Most recipes can be adjusted to suit the season or customized a little for specific uses or recipients. We are especially loving Soothing Lavender & Bergamot Tub Tea!
What's Tub Tea?
Tub Tea is really similar to a bath soak or bath salts, but generally it's deemed a tea because it contains loose, dried herbs. This recipe includes lavender buds and some quinoa. The tea mixture is placed in small pouches that steep in the tub.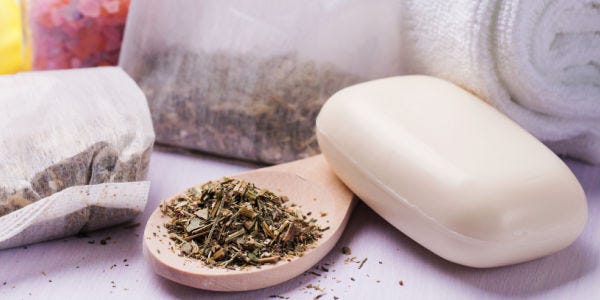 Gift Tub Tea with a Muslin Bag
We're gifting this tub tea with small pouches in which the mixture is placed before putting it in the bath. A small muslin bag will do. When using the tea, 1/4 cup of the tea should be placed into the muslin bag and then drop the bag into the bath. The bag contains those little floaters which meander around the bath and may be bothersome to some or could get caught in the water jets if being used in a hot tub, or in the drain. Some bathers enjoy seeing the lavender or rose petals or other organic components floating – but for those who don't, including a bag with your gift is a thoughtful option.
Storing and gifting the tea in glass packaging is a simple embellishment that makes for easy and attractive gifting! Plus, it looks pretty on a bathroom shelf.
We packaged in our Queenline jars, but any jar will do. If you are thinking of making multiple small sets to gift you might want to consider using 4oz. or 8oz. jars. Add some ribbon or twine, to tie a small muslin bag to the jar.
This batch yields about 30 oz by volume. Suggested use – about ¼ cup per bath
In a food processor or blender, pulverize quinoa or oats well – until powdery.

In a large bowl, mix all ingredients well.

Scoop into your desired glass containers with an airtight lid.
*As with any homemade product that will be in direct contact with skin, we recommend you include a tag or note that includes the list of ingredients so that the user is aware of possible allergens.
DIY Bath & Body Recipes
Martha Stewart has a tub tea recipe with Chamomile and Peppermint. Instead of gifting with bags, she suggests filling heat-sealable tea bags. We've got a few recipes for bath & body scrubs, lotions and more here.