We made Lavender Jelly with Pomona's Pectin at our Preservation Station at the PA Farm Show a few years back and were happy with how easy it was and delighted in the color and flavor!
It got rave reviews by many of the Farm Show attendees, who also thought it would be perfect in an elegant brunch spread or as shower favors.
Lavender's subtle aromatic nature makes it a lovely addition to jams & preserves and pairs beautifully with both the sweet and savory recipes.
Preserves with a nuance of Lavender that have grabbed our attention: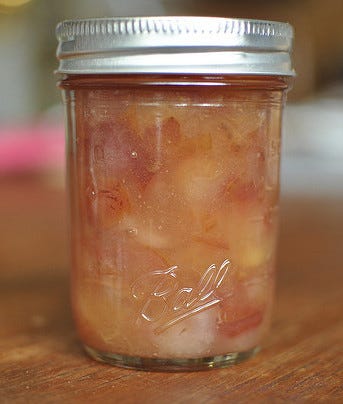 We made this Lavender Vanilla Bean Strawberry Jam with Pomona's Pectin.
Lavender Ginger Pickled Blueberries by Erin of Putting Up with Erin.
White Nectarine-Lavender Jam and Blueberry-Lavender Jam with Pomona's Pectin.
Blackberry Lavender Jam , Meyer Lemon Lavender Jam and Red Pear Lavender Jam from Marisa at Food in Jars. You can also find more of her recipes in her cookbooks:  Red Pear Lavender Jam and Honey-Sweetened Apricot Butter in Preserving by the Pint, and a Lavender Lemonade Concentrate in Naturally Sweetened Food in Jars.
Here are some ways to let Lavender influence that "extra" produce  that quickly gets transformed into an impromptu baked delight, and infusion or a refreshing beverage:
A few things to consider:
Quality matters!  When sourcing your lavender, be sure to get food grade. We choose to use a source as close to us – Hope Hill Lavender Farm. As it is with all produce, knowing & trusting your grower usually means a higher quality product. If you see a bulk jar of lavender that isn't marked as food grade, don't be afraid to ask. Chances are, if they don't' know where it comes from, it isn't food grade.  Although you may need to do a little research to find your best local source, this U.S. Lavender Farm Directory may help you get started.
Go Small!  When trying new flavor combinations for the first time, or if you're planning to gift them, it's a wise idea to use smaller jam jars. This way, if it's not a recipe that gets devoured upon opening, you'll be more likely to get through it before it spoils. The same would apply for ones you're gifting. It also allows you to share the joy of a single batch more easily.  We'd recommend the 4oz smooth-sided or 4oz Quilted jars for regular use. Many of our customers also use the 1.5oz sample jars, which are a great way to share these new flavors; however, they aren't compatible with the 2-piece lids. (You can learn more about using lug lids or single-piece lids here.)

If you've got a green thumb, or are just lucky enough to have thriving Lavender plants, here are tips on how to harvest and dry it, along with some other ways to enjoy those fragrant buds.
We just added more lavender to our garden this spring. I'm looking forward to a larger harvest next summer! In addition to the occasional use in recipes, we've also been using quite a bit when making our own bath salts & bath soaks.
We'd love to hear from you! What is your favorite way to use Lavender in your kitchen?
Save
Save
Save
Save
Save
Save
Save
Save
Save
Save
Save
Save
Save
Save
Save
Save
Save
Save
Save
Save
Save
Save
Save
Save
Save
Save
Save
Save
Save
Save
Save
Save
Save
Save
Save
Save
Save
Save
Save
Save
Save
Save
Save
Save
Save