If you haven't discovered Simply Canning, which is a very informative canning website, it's high time you did.
Sharon Peterson, the woman behind Simply Canning, began her canning journey for the same reason many of us have; gardening and home preserving food proved to be a great way to provide nutritious, simple, delicious meals and provides an alternative to the many preservative laden commercial products found on the shelf of the local mega markets.
Simply Canning is a great resource for information on canning safety, recipes, canning tips, how to's and product reviews. The information is valid for a newbie & veteran canners. The articles are easy to read and understand; 'it's like being taught canning techniques by your best friend.'

1. The 4th Burner Pot is such a versatile pot. It has become a favorite of many canners including, Simply Canning. You can see Sharon's review about the 4th Burner Pot here, and specific product details from us here.
2. The Orchard Road Jars were added to our product offering about a year ago. Orchard Road is a fairly new canning company and its jars have a clean sleek look, and the quality is comparable to Ball jars. Simply Canning had a chance to test out these jars and wrote a review here. We are including a case of regular mouth pint, and regular mouth half-pint jars and lids in the prize pack.
3. The Ball Elite widemouth jars are a favorite of ours, and when we found out Simply Canning loved these squatty jars too; we had to add them to the mix. The prize pack will include a case of both the Elite 8oz, and the 16oz jars.
4. Pomona's Universal Pectin & the book Preserving with Pomona's Pectin are essential items for anyone who wants to reduce sugar in their preserves, or who may want to use alternative sweeteners such as honey. Simply Canning had a chance to test out some recipes from the book, and put the pectin to the test. You can read her review of the book and pectin here. The winner will get a copy of Preserving with Pomona's Pectin and a box of Pomona's Universal Pectin.
5. We know how Simply Canning loves stainless steel, so we thought we'd add our widemouth and regular mouth Stainless Steel Funnels to the prize pack.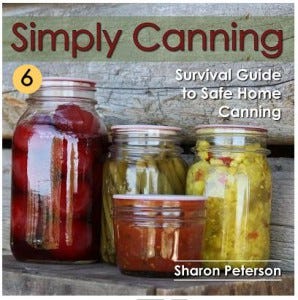 6. Simply Canning's Survival Guide to Safe Home Canning, is a necessary resource to add to your canning library, so Sharon will send the winner a signed copy.
Use the Rafflecopter form below to enter your chance to win the Simply Canning Giveaway!
Good Luck!
Save