Rusty Rings
We won't tell you that rust is good, but it doesn't have to mean the end of the road for your canning supplies.
If you're using a typical agate water bath canner, chances are, it has many stories to tell and the battle scars to prove its usefulness. Sadly, while they are light and easy to handle, they are prone to chip and then the rusting starts. I still use mine – and they have a little rust.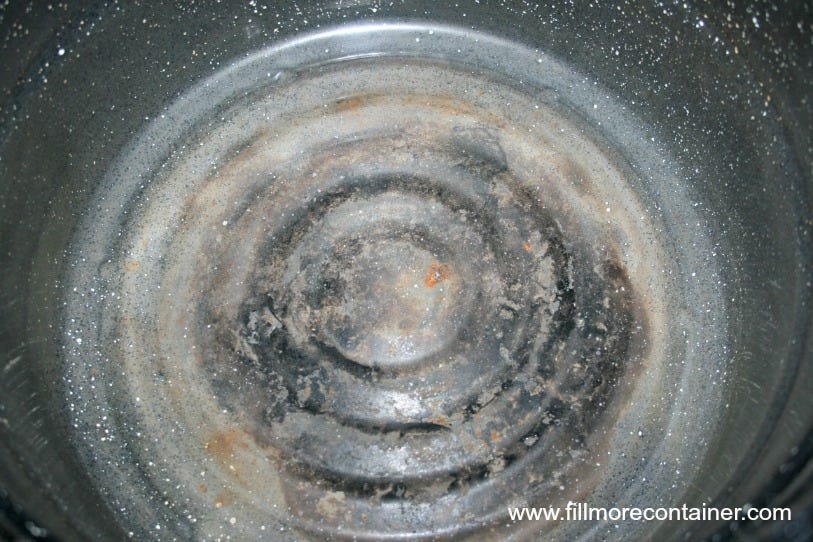 That's OK…just be sure that your rusty spots are not going to interfere with its performance and safety. Use your common sense…if the handles don't feel secure or if there is a weakness in any area of your canner, it's time to replace it. One of these days, I'll need to replace mine, but not quite yet! (When that time comes, there are many creative & useful ways to re-purpose old canners or racks!)
I just needed to replace my canning rack for my large water bath canner, as it was just too visually rusty and so easy to replace. I'd also found that a cake rack or a rack made of bands worked better for the wide range of jar sizes I'd been using. It didn't have dividers and gave me more flexibility in spacing my jars.
A little rust on the outside of your rings isn't a bad thing. However, you do want to stay away from the rings that become distorted or have rust on the inside or any part that will be in contact with your lid or the jar. If the rust is against your lid or jar, it may not interfere with the sealing process, but it will likely transfer rust onto your lid or jar…which will not look very nice- especially if you end up gifting or sharing those goods. Here are some ideas on how to re-purpose those old rings!
Here some tips on avoid that pesky oxidation!
The best way to avoid rust is quite simple…to limit the contact with water or moisture. Sounds easy, right?
Don't forget to empty and clean your canner & drying rack in a timely fashion.
I'm not sure what your order of operations is when you're canning, but mine usually is worked in with something else. So, after I remove the last batch of jars from the canner and set them lovingly on the counter to cool, I'm on to cleaning up the mess that I made or getting supper ready, laundry, email, helping the kids…anything but hauling that hot canner of water out to the worm pile. Thus, it sets there with water in it until the kids go to bed. I know, it's not ideal. I'll try to do better! Please note, though…it is important to let that water cool down enough (cool enough to touch) before handling it…it's not worth getting burned in the effort to deter rust.
Don't forget to remove those rings or bands from your sealed jars.
This should be happening anyway for safety purposes, but this is just another benefit of removing them. Rusting bands on jars can make it difficult to open the jars and quite simply looks bad.
It is possible (especially during prolonged water bath times) that some contents exited the jars and would be deposited on everything in your canner. When you know this has happened, it's particularly important to wash them with warm soapy water.
Dry everything thoroughly!
Most canners and all racks and rings/bands have curled edges or tight joints that hold water…making it impossible for even the best towel dryer to remove. I will often put my oven on warm and place my washed and towel dried water bath canner, metal rack and metal bands into the oven for a warm bake to ensure that the moisture is driven out.