Let's face it pitting cherries is, well it's the pits…literally! In an effort to forever eliminate this grueling task from our cherry jamming efforts we decided to find a better way.
We made a batch of Sour Cherry Jam from Food in Jars with our push button mason jar Cherry Pitter that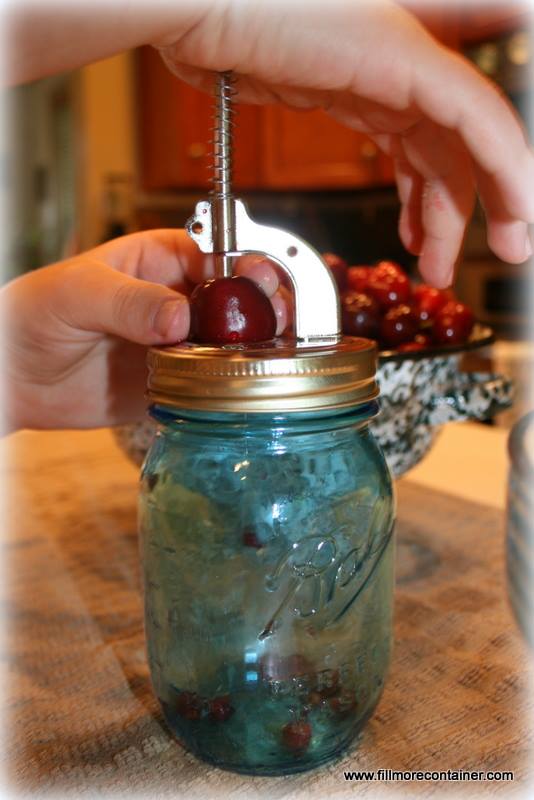 fits on regular mouth (G70) canning jars and is made in the USA! All of the cherry pits go into your jar…no waste & no mess! Needless to say, we were in love at our first pitting.
The special rubber helps to protect your cherries and replacement rubbers are available, if needed.
We loved this Cherry Pitter so much that we sent one to our friend, Marisa over at Food in Jars. She loved it too and used it to make some sweet and sour cherry jam and she's sharing the recipe on her blog.
If you need a reason to make a pie, check out this idea – 'pie it forward'.
Tip: To help the Mason Jar Cherry Pitter look its best & last longer, it is important to wash all parts in warm soapy water to remove the acidic juices. Also, resist the urge to run it through the dishwasher… the steam drying and extended exposure to water will cause it to rust much more quickly!
We've collected quite a few cherry-centric recipes over the years! Be Sure to check out our "Preserving Cherries Recipe Round-Up".