We are excited to announce that we are planning a move in 2021! After years of looking for existing real-estate, it became clear that if we wanted to operated effectively and remain relatively close to our current location, we would need to build something that best suited our needs. Construction is in progress and we hope to transition to the new Fillmore Container facility, still located in Lancaster County, PA in late summer or early fall 2021. You can follow this post for regular updates on our progress!
February 2021
This month witnessed some significant construction. Concrete foundation and steel installation is well underway! It's exciting to see the ground work being laid for a facility which will allow us to operate with greater efficiency.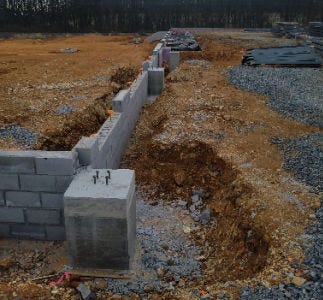 January 2021
January brought more site preparations, in addition to deliveries of steel required for our warehouse height needs and to support the weight of a future solar panel installation.
December 2020
After site preparation which included measures to mitigate the environmental impact, the underlying rock needed to be addressed. The blasting process was pretty impressive.
November 2020
Ground breaking happened this month on our new facility for Fillmore Container in East Hempfield – Lancaster County, PA. We are excited to expand our business to a new bigger location where we can operate with increased efficiency. We are pleased to work with Professional Design & Construction throughout this project.