Mason jars are one of the most practical and fun items to use when it comes to weddings. They're inexpensive, rusticly chic, and allow for endless possibilities for wedding favors, centerpieces, or beverage containers. No matter your wedding theme or style, mason jars are a great vessel to get creative! Guests will love receiving a take-home jar, especially when the contents are made with love.
CanningCrafts, a trusted resource for custom labels, has an entire wedding label collection with custom designed labels and hang tags for weddings! Their labels will take your wedding favors to the next level, with unique custom labels. We are partnering with them for a giveaway. Get the details at the end of the post. Let's take a look at how you could use some of their wedding labels with our jars.
JAM JARS
Send your guests home with jam filled jars! Pair your jars with custom jam labels that adhere to the front of the jar, or on the lid. Consider using a family recipe to add an additional uniqueness to the gift. If you don't have a trusted recipe, we've got tons of jam recipes! Any of these jam jars would work well with these labels. Ball's smooth sided jars are another great choice because they work well with a variety of labels.

MASON JAR MUGS
If you aren't a preserver, but want to send your guests home with a personalized keepsake that they can use again and again. Our Mason Jar Mugs paired with CanningCrafts Eat Drink and be Married labels are a great match. Send them home with a paper straw, mug topper and a shrub recipe and they'll want to fill these mugs over and over again.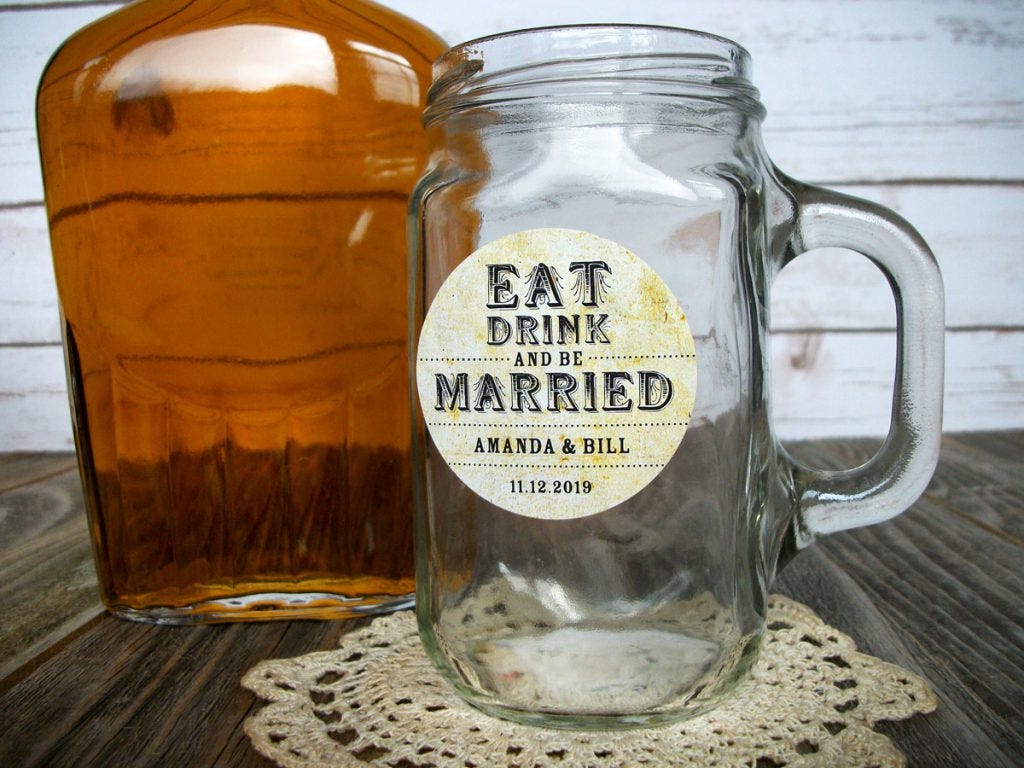 SMALL JARS
We just love these itty bitty heart shaped labels, which fit perfectly on our sample jars & hex jars, and would be perfect for a bridal shower or wedding.
These labels are also super cute on the bottom of Hershey kisses. You could fill a few of our Queenline jars with the kisses, or add them to a dessert or candy table in our beautiful Heritage Hill jars.
CanningCrafts, our partner for our giveaway, has been selling colorful, canning jar labels since 2010, and we just love their products! Especially, the wedding label collection. In addition to their wedding themed labels, they have over 300 products that include custom labels, cloth covers for mason jars, hang tags, and DIY cookie mason jar gift sets. CanningCrafts selection of ready made and custom mason jar labels are perfect for dressing up the mason jars for a wedding, party, for in your pantry, or for gifting to friends and family!
THE GIVEAWAY
One lucky winner will receive a $70 credit to Fillmore Container and 10 sheets of custom labels from CanningCrafts. The winner gets to choose and customize labels with CanningCrafts. Enter below.
a Rafflecopter giveaway