Hopefully your garden is planted, your flowerpots are filled up and all the mulching is done! Time to enjoy one of the great summer pleasures – sipping some of these homemade summer tea recipes from a well-love mason jar or one of our Handled Mason Jar Mugs of course!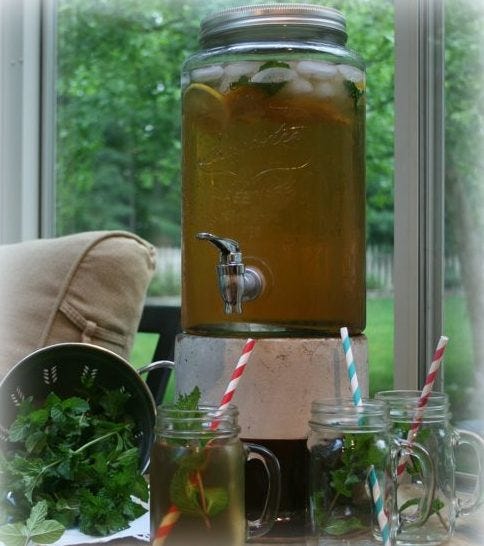 Here in Lancaster County we call this summer treat – meadow tea. We shared some of these recipes with our local newspaper, but we wanted to make sure all our fans (local or not) had the chance to enjoy some meadow tea.
We've chosen to grow peppermint, apple mint, and curly mint, but there are many varieties of mint available. You can see, by this picture of the mint plants at Ken's Gardens in Lancaster, that the choices are abundant.
If you've never worked with mint plants, here are a few tips: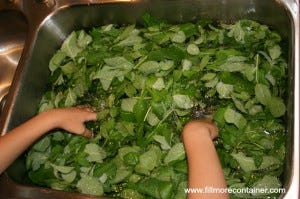 Cut often to avoid sprawling. This also encourages fresh new growth, which is the part you'll want to be using in tea or as garnish.
It spreads quickly! Consider your location carefully or plant it in a container to keep it from overtaking your garden.
Rinse your mint leaves thoroughly before steeping for tea.
Tea Recipes:
Traditional Lancaster County Meadow Tea
4 cups water (bring to a boil)
1 quart Mint Tea leaves/stem (rinsed & firmly packed)
3 – 5 cups sugar (we sometimes get away with 2 cups)
Orange Lemonade Mint Tea (From Amy Potts – Keith's sister)
This one is a family favorite! The concentrate can be used right away, or frozen for enjoyment later!
2.5 cups water
1.5 cups sugar
12 oz. lemonade concentrate
6 oz. orange juice concentrate
2 cups mints leaves
Boil water & sugar for 5 minutes
Pour over leaves
Cover for 1 hour
Remove & squeeze leaves, add lemonade & orange juice concentrate.
You can make this a couple of days ahead of time, refrigerate and mix for your event or pour it in freezer safe containers.
When you're ready to enjoy it, simply add 3 cups water to 1 cup of the concentrate and mix well.
Mint Tea Syrup (From our Auntie Doris)
This is a great option if you've got limited refrigerator space – a batch of this will provide you with refreshing mint tea by the glass on demand!
2 cups sugar and 1 quart water – boil for 5 minutes
2 cups chopped mint
3 lemons juice & rinds
Pour boiling syrup over tea & lemon and let stand for 6 hours.
Strain out the tea leaves and pour the syrup into a glass jar, cap it, refrigerate it.
When using this concentrate, the usual ratio is 1 part syrup to 2 parts water, or to taste.
We found some other refreshing minty creations on Yummly.
A good summer tea always tastes better in glass…and we prefer a sturdy mason jar. Top it with a pretty jar topper and a stainless straw and you are set.