Our woozy bottles or hot sauce bottles have become a fast favorite for hot sauce aficionados. Whether you're making hot sauce as a hobby or for your business, these woozy bottles are the ideal packaging and will show off your product nicely. They all have a CT finish (screw-on style), for which we carry a variety of lid & fitment options.
Our Woozy Bottle Options
Complete your Woozy Bottles with the best Fitments & Closures
All compatible fitments or accessories for each particular bottle are linked to the bottle and can be found in the Accessories tab underneath the image of the item. This is the best way to make sure that items are compatible.
Dripper Fitments and Orifice Reducers can be quite helpful depending on the viscosity and consistency of your product. The dripper fitment simply snaps on, and can easily be removed. The orifice reducer slides into the mouth of the jar and is a little more challenging to remove.
Lids are available in several colors, and in plastic or metal, depending on the finish of your bottle. Be sure to utilize the Accessories tab to see which options are compatible with your bottle.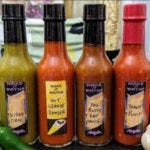 Heat Shrink Bands are available in a wide range of colors and can help you color-code your level of heat, or simply heighten the impact of your marketing. If you are selling your product, these can make your product look more professional, increase customer confidence, and aid in keeping lids secure during shipping. Learn more about them here. These will also show up in the Accessories tab.