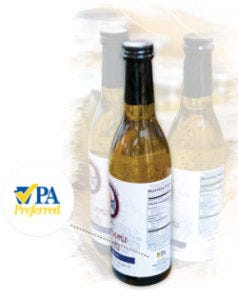 PA Preferred is an official branding program from Pennsylvania's local foods and farms. The mission of PA Preferred, as stated by the Pennsylvania Department of Agriculture, is to create opportunities for Pennsylvanians to easily identify and purchase locally grown and processed items, which in turn benefits Pennsylvania's farmers, agribusinesses, and economy. It is to provide farmers and agribusinesses with a brand identity for the products they grow and produce. It is to assure consumers that when they purchase products with the PA Preferred logo, they are directly supporting Pennsylvania farmers.
What are the Benefits?
By becoming a member, you are able to add the official PA Preferred logo to your product(s). This is an easy way for potential buyers to see that your product is made in PA, using primarily PA ingredients. Whether your customers are local, and want to know that they're supporting their neighbors, or are tourists who want to be purchasing authentic locally produced products, the logo on your label matters.
The PA Preferred program is committed to connecting PA producers with sourcing, referrals, and other services as well as training opportunities. Special events like buy/vendor shows help connect producers to retailers to increase product placement and to facilitate distributor and wholesale relationships.
How do I sign up?
What does the application process look like? How do I know if I qualify? The PA Preferred Membership Application is relatively simple. Qualifications and how to apply are explained in the instructions for completing the PA Preferred Membership Forms.
Additional Resources
We want to support our customers in growing their businesses, so we try to share helpful information relevant to the food/beverage industry, personal care products, and candle-making. You can find these resources on our blog and on our social media pages. We also curate other articles on our Pinterest boards. Commercial, Wholesale Customer Info & Tips is one geared toward businesses.
Depending on what stage you are in your business, you may find some helpful resources under the Commercial Business Resources tab of our blog. If you are just starting on your venture, we'd recommend checking out our Food Processing Resources article.