A Classic Bloody Mary recipe combines tomato juice, hot sauce, horseradish, pickle juice, Worcestershire sauce and some spices. Although a Bloody Mary generally includes vodka, this flavorful drink can stand on its own without alcohol which makes it a perfect mocktail. This post includes a Bloody Mary Mocktail recipe along with ideas for making a fabulous Bloody Mary Toppings Bar, which is really what makes this drink shine!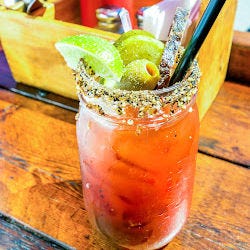 This Virgin Bloody Mary recipe comes together quickly with just a few ingredients you have in your pantry. Feel free to customize it to your liking by adding more, or less spice.
2 cups prepared tomato juice

preferably low sodium (since pickle or olive brine will be plenty salty)

1/4 cup dill pickle juice OR olive brine

2 tablespoons fresh lemon juice

1 tablespoon prepared horseradish

1 teaspoon hot sauce

such as Franks

1 teaspoon Worcestershire sauce

1/4 teaspoon celery seeds

1/8 teaspoon cayenne pepper
Combine the following ingredients in a quart jar and shake well. When ready to serve pour over ice and garnish.
The drink can be made 4 days ahead if kept chilled. You can double or triple the recipe depending on the number you are serving.
Add a little of this Salt Blend to your bloody mary mix, or make a quick rimming salt with this blend from the Naked Botanical.
Bloody Mary Mocktail Garnish Bar
Part of the fun of making a Bloody Mary is all the garnishes! If you are hosting a party, setting up a Bloody Mary bar with an array of toppings let's each guest customize their own drink. Get creative with some crazy fun toppings, it'll be the talk of the party!
A fun way to add a little extra to your drinks is to rim your drinking jars with an Old Bay Bloody Mary Rim Salt, or another smoky salt rimming recipe. You can do this ahead of time, or let your guests rim their own glass. Get recipes and learn how to make rimming salts or rimming sugar for your cocktails or mocktails. Here are a few of our favorite garnishes:
Fresh herbs like – basil, dill, parsley, or any of your favorite herbs
Celery stalks
Dill pickle spears, okra, or cornichons
Pickled green beans or asparagus
Green olives
Garbanzo Beans
Mozzarella balls
Lemon or lime wedges
Bacon
Boiled shrimp
Hot Sauce
Honey (for those that like it sweet and spicy)
If you don't have the space for an array of garnish bar, create some Bloody Mary skewers. Load them up with some pre-made easy to skewer items like – stuffed olives, a cube of cheese, grape tomatoes and ham chunks and petite pickles.
Pickled Preserves and Bloody Mary Mocktails
Pickled preserves are a great addition to any Bloody Mary. So, dig into your pantry and pull out some of those delicious pickled preserves you made this year!
Bloody Mary Mocktail Kit
If hosting a party isn't in the cards for you this year. Consider sending a mocktail or cocktail kit to your friends and cheers them from afar. Our favorite go to Bloody Mary mix is from The Real Dill. They sell a fantastic Bloody Mary Mix by the jar which you could pack up with some of your own pickled preserves for toppings and gift to friends. Or go for The Real Dill's Avid Bruncher Collection which includes 2 jars of Bloody Mary Mix, 2 variety's of pickles, plus Mason jar drinking glasses.
P.S. We really love The Real Dill's environmental commitment. They are a zero-food-waste company, which repurposes or donates 100% of its food scraps to a local nonprofit that composts them for their urban farming programs. Now, that's something to cheers to!