This post is filled with Homemade DIY Gifts ideas! We think DIY gifts are some of the best gifts to give and receive! The time and care that goes into crafting and creating each gift make them just a bit more special. Let your creativity shine through your gifts this year by making one (or more) of these DIY gift ideas.
Mulled Kit Recipes
Gifting homemade spice kits for drinks not only offers a warm holiday drink to enjoy, but will fill the recipients home with the wonderful aroma of cinnamon and cloves, perfect for a winter night.
Mulled wine kits are easy to make and are welcome additions to wine-themed hostess gifts over the holidays. While they're enjoyable to make on your own, it would also be a fun reason to gather with some of your favorite people and have a mulled wine kit making party! We used a handled pint jar to package the spices so they could be used as drinking vessels too, but there are many options from which to choose, depending on your gifting plans.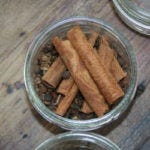 If you'd rather have a nonalcoholic option of the Mulled Wine Kit, you can create similar gifts with our Mulling Spices for Apple Cider. Mulling spice kits filled with cinnamon, cloves, ginger and some nutmeg can be jarred up and gifted to teachers, neighbors or coworkers. Consider gifting a quart of apple cider along with the jarred spices and they'll be all set to warm themselves up with a hot cup of mulled apple cider.
---
Bath Soaks, Salts and Tub Teas Recipes
Bath Soaks, Salts and Tub Teas are great homemade gifts for any time of the year. They're easy on the budget, usually involve simple ingredients and in most cases, require no special equipment.
This Eucalyptus Mint Soaking Salts blend is bound to be a favorite for tired or achy muscles.
This soothing Lavender Milk Bath Soak is so easy, and it doesn't require ingredients that are expensive or hard to acquire. Jar it up and share it with those in your life who could use some gentle relaxation!
Tub Tea is really similar to a bath soak or bath salts, but generally it's deemed a tea because it contains loose, dried herbs. This Lavender & Bergamot Tub Tea includes lavender buds and some quinoa. The tea mixture is placed in small pouches that steep in the tub. When gifting we package in a jar and tie a small muslin bag to the jar.

We especially like gifting bath salts, soaks and teas in our Mayberry jars, Skep Hive Jars, and our Muth Jars.
---
Edible Mix Recipes
We've got a few mix recipes that are great for gifting! Soups, cookies, pancakes and waffles and hot cocoa mix. These are all great and easy mixes that you could get the kids involved with creating. A perfect homemade gift for a busy household, or someone who might need an extra hand in some meal prep.
Gifting soup mixes in jars can be a simple, thoughtful, and economical way to help someone warm up their home and take the work out of meal prep. This Vegetarian Spicy Black Bean Soup Recipe is written for a Quart Jar. It would easily serve a family of 5, with leftovers to spare. You'll find links to a variety of soup mixes including Chicken Noodle, Five Bean Soup, Coconut Curry Soup, Split Pea Soup, and Italian Barley Soup. Find them here.
We packaged this Pacaked & Waffle mix in some of our Cracker Jars (for larger families) and also in wide-mouth Pint or quart jars depending on who it was going to. We even added a bottle of our own Vanilla Extract and some local Maple Syrup to sweeten the gift! If you buy your maple syrup in bulk or if you are making your own fruit syrup to gift, consider repackging in some of our small syrup bottles. We made free printables that include the recipes for Pancakes, for Waffles, and for the dry ingredients so the recipient knows exactly what's in the mix.
This delicious gift of a trio of jars includes Hot Cocoa Mix, a jar of Homemade Marshmallows, and a little jar of crushed Peppermint Candy Cane! Plus, we made free printables with the hot cocoa instructions for you to attach to your gifting jars. The recipe that we're sharing here is for a bulk or gifting volume. It will fill 8 – 9 of the 26 oz Square Mason Jars.
We also made Hot Cocoa with all the ingredients in one jar. We used Ball's Snowflake jars which are no longer available, but any pint jar would work for this recipe. Check out the video below.
---
Extracts & Vinegar Recipes
Extract and Vinegar need to sit a bit before gifting. So, you'll want to start making these a month or two before gifting.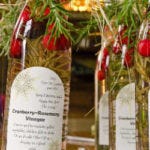 This is an elegant and useful holiday gift that even the kids could make. Cranberry-Rosemary Vinegar is great as a marinade, or you can use it with a little olive oil for a dressing. Our Longneck Bottles also known as a 12 oz vinaigrette bottle is the perfect container for this vinegar. Don't forget to add a dripper plug to make pouring easy.
Making extract is surprisingly simple and is a wonderful homemade gift for the bakers on your list. This peppermint extract can be used to make a delicious peppermint bark, a cake, or even a brownie with a little mint flavor. Watch the video to see how easy it is to make. Our Woozy jars are the perfect vessel for many extracts.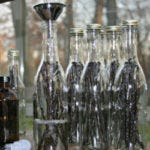 Homemade Vanilla Extract was a bit more affordable to make when we made it a few years ago. Since then, the cost of Beans has increased, significantly. However, if you have a baker on your list gifting homemade vanilla extract might just be worth it.
We offer so many glass containers that are pretty and functional for extracts and vinegars. The best jars for storing extracts, oils and other liquids that are light-sensitive are the Amber Boston Round glass containers. They offer UV protection for light-sensitive products and have a narrow mouth for precision pouring. However, if you'd like to see your extract or vinegar, and will consume rather quickly, storing in a clear glass bottle like one of these – 8oz Woozy Bottles or 12oz Long Neck Bottles – work well too.
Fruit shrub spritzers are a great addition to any holiday gathering and would make the perfect hostess gift. Simply pour a little shrub over a glass of ice and fill with seltzer, or add a little sweet wine and you've got a sparkly delicious drink. It's very easy and versitale to make shrub – just follow a general ratio of 1 part sugar : 1 part fruit : 1 part vinegar. We've enjoyed trying out a variety of flavor combinations including Thai Basil Black Raspberry Shrub, and Black Cherry Shrub. These French Square bottles or our Stout Bottles are great container options.
---
Holiday Labels
Check it out! Print out these holiday gift tags to use with your homemade gifts. We've got Mason Jar Holiday Tags or use these Holiday Canning Labels.
What are you making?
Are you making some homemade Holiday Gifts this year? We'd love to see what you're making & gifting! Tell us in the comments!