Mulled wine kits are easy to make and are welcome additions to wine-themed hostess gifts over the holidays. While they're enjoyable to pull together on your own, it would also be a fun reason to gather with some of your favorite people and build some for the season! If you'd rather have a nonalcoholic option, you can create similar gifts with our Mulling Spices for Apple Cider.
What is Mulled Wine?
Mulled wine is often thought of as a cooler weather version of Sangria.
A great Sangria is usually built with fresh ingredients to create a fruity (apples, oranges & other tropical fruits), sweet (honey or brown sugar), refreshing and boozy (rum or bourbon) and bold (dry red wine) beverage served with lots of ice. Once the leaves start turning and the weather cools, we're reaching for those warm beverages…and mulled wine is a wonderful way to warm up. A great mulled wine is built with some of the same ingredients, but with the addition of some deeper, richer flavors from mulling spices. If you're a serious mulled wine fan, you may want to check out this Merry Mulled Merlot Jam recipe.
How to make Mulled Wine
Traditionally, mulled wine is often made with a dry red wine, but can also be made with white wine. We used Big Rosie's Red and an Apple Wine from local vintners Britain Hill Vineyards. For our sweetener, we chose a Fall Honey from Millers Apiary. It has a deeper, richer flavor which we've grown to appreciate, especially this time of the year.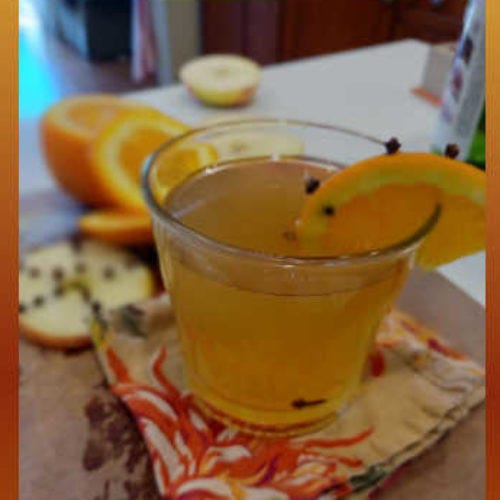 There's room for variation in creating a mulled wine that you enjoy…if there are spices you dislike, leave them out. If there are ones you really love in heavy doses, feel free to add more.
Slices

of Orange

(include the juice from the ends of your orange)

Slices

of Apple

(cranberries, dried cherries etc. optional)

Cinnamon Sticks

4

Whole Clove

5-7

Star Anise

3 – 5

Cardamom Pods

3-5

Sweetener – Maple Syrup/Honey/Brown Sugar

An optional little extra – spike it with a tad of bourbon

brandy or cognac.
In a non-reactive pot, pour your bottle of wine and add the following:

Gently warm, until hot, but not boiling. You'll notice the longer it heats, or if it gets too hot, some cloudiness will being to appear. Then carefully ladle into glasses and garnish as you wish. Personally, I enjoy seeing the fruits and spices, so I don't strain it. If you wish to remove the spices and fruits once it's to your liking, you may do so.
---
Recipe Notes
When you are making a batch on the fly, you can use fresh fruits. As the mulled wine sets (if you're serving it in a warmer) you may want to pluck out the original orange slices so that the citrus doesn't throw your flavors off balance. You can toss some fresh slices (perhaps thinner) in for garnish if you wish. Have fun with the garnishing. If you choose to stick cloves into orange slices, it helps to use an ice pick to poke holes first. Cloves go in much easier, and you're less likely to crush things in the process.
Packaging Mulled Wine Kits
When jarring the mulling components for gifting, you can choose to just include the spices, or you could add dried fruit slices or infused sugar cubes. Apples and citrus are usually plentiful this time of the year, and chances are the recipient would have some on hand.
We used a handled pint jar to hold enough for 4 bottles of wine, but there are many options from which to choose, depending on your gifting plans.