In the fall apples are cheap and abundant. Making this chunky spiced applesauce is a great way to preserve some of that bounty. Thanks to Marissa McClellan for sharing this recipe with us, from her book Naturally Sweet Food in Jars.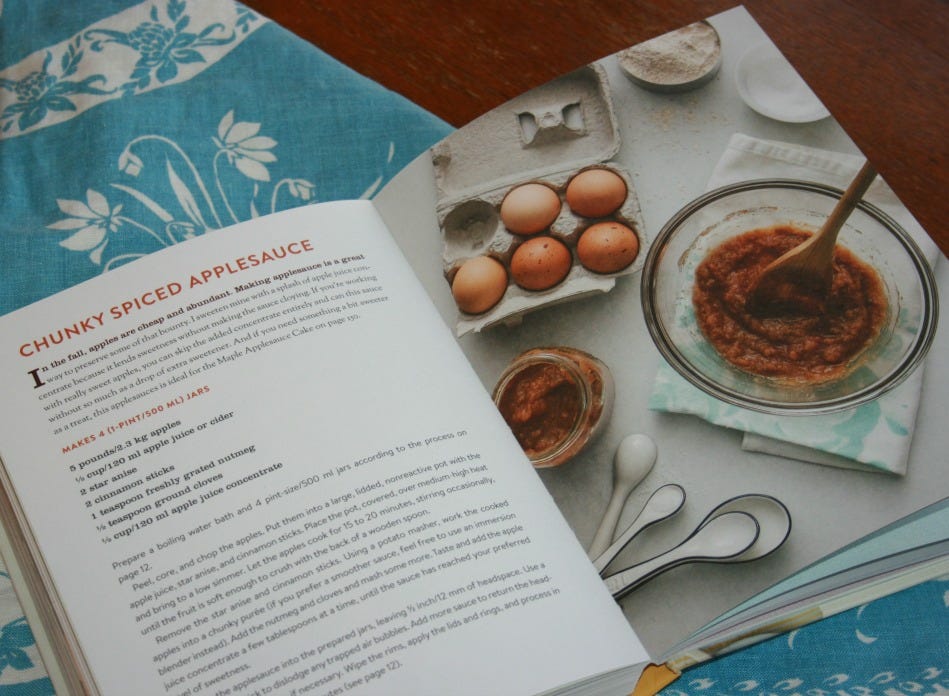 Marisa suggests sweetening this chunky spiced applesauce with a splash of apple juice concentrate because it lends sweetness without making the sauce cloying. If you're working with really sweet apples, you can skip the added concentrate entirely and water bath can this sauce without so much as a drop of extra sweetener.

This recipe makes about 4 pints. However, you might want to make a few batches of this applesauce or a variation of it. We've found having applesauce in our pantry is great ingredient to add to yogurt, oatmeal, bake into breads, cakes and muffins.
TIP: If you aren't a canner, you could freeze this applesauce in freezer-safe containers. If your family will consume the applesauce fairly rapidly you could also refrigerate the sauce.
This recipe is reprinted with permission from Naturally Sweet Food in Jars © 2016 by Marisa McClellan, Running Press, a member of the Perseus Book Group.
5

pounds/2.3 kg apples

1/2

cup/118 ml apple juice or cider

2

pieces

star anise

2

cinnamon sticks

1

teaspoon

grated nutmeg

1/2

teaspoon

cloves

1/2

cup/118 ml apple juice concentrate
Prepare a boiling water bath and 4 pint/500 ml jars.

Peel and chop the apples. Put them into a large, non-reactive pot with the apple cider, star anise, and cinnamon sticks and cover. Set the pot on the stove over medium-high heat and bring to a low simmer. Let the apples cook for approximately 15 to 20 minutes, stirring occasionally, until the fruit is soft enough to crush with the back of a wooden spoon.

Remove the star anise pieces and the cinnamon sticks. Using a potato masher, work the cooked apples into a chunky puree (if you prefer a smoother sauce, feel free to use an immersion blender instead). Add the nutmeg and cloves and mash some more. Taste and add the apple cider concentrate a few tablespoons at a time, until the sauce has reached your preferred level of sweetness.

Spoon the applesauce into the prepared jars, leaving 1/2 inch/12 mm of headspace. Use a chopstick to ease out any trapped air pockets and add more sauce to return the headspace to the proper levels, if necessary. Wipe the rims, apply the lids and rings, and process in a boiling water bath canner for 15 minutes.
If you have a tea ball, or a small swatch of cheese cloth, I'd recommend putting your star anise in it to contain those little seeds if they get dislodged at some point. It's much easier to simply pull that and your cinnamon stick out that way instead of fishing around for pieces.
Applesauce Canning 101
If you haven't canned applesauce before you may want to read this applesauce FAQ article. Making applesauce can be fairly straightforward. However, if you are preserving your applesauce, sometimes it can be surprisingly tricky, particularly for new canners. You'll find helpful tips to questions about, canning safety, adapting recipes, processing time, discoloration, and more.
Preserving Apples
Penn State Extension has a great article about the variety of methods you can use to preserve apples. You'll learn the characteristics of apple varieties and which types are best for freezing, canning, pressure canning, as well as a number of basic apple preserving recipes.
10 Ways to Preserve Apples
In addition to the chunky spiced applesauce recipe above, we also enjoy this recipe for spiced applesauce. Get more recipes on how to preserve Apples in our roundup – Ten Ways to Preserve Apples.