Did you hear? Sharon from Simply Canning has released the 2nd edition of her book. In this post, we'll take a closer look at the Simply Canning Book and the value it brings to home canners!
About Simply Canning
Sharon Peterson, the woman behind Simply Canning, began her canning journey for the same reason many of us have; gardening and home preserving food proved to be a great way to provide nutritious, simple, delicious meals and provides an alternative to the many preservative-laden commercial products found on the shelf of the local mega markets.
Simply Canning is a great resource for information on canning safety, recipes, canning tips, how-to's, and product reviews. The information is valid for newbie & veteran canners. The articles are easy to read and understand; 'it's like being taught canning techniques by your best friend.'
We think some of these articles are really useful!
We especially like these recipes from Sharon.
This Canning Quick Start is free and is a great place to start if you don't know where to begin. But even more importantly she released the second edition of her Simply Canning Book!
Simply Canning Book
Sharon's book – The Simply Canning Guide to Home Canning Without Overwhelm Uncertainty is a great canning guide with information you can trust. It leads you step-by-step through the most important safety information for both pressure canning and water bath canning. Often canning mistakes are made when basic safety principles aren't followed. This book provides detailed scientifically accurate information so you can easily understand why following canning safety protocols are important.
After reading this book you'll have a great understanding of what the canning process actually does and how it keeps your food safe for shelf storage and the essential items you need to be successful.
What we really love about Sharon's book is, because she doesn't have a line of products she's trying to promote within the book, she is able to offer a more objective look at products and tactics used for those looking to learn preserving. It's refreshing to see her truly impartial look at which canning tools you need, and which ones you don't, and which products she might prefer and why.
Simply Canning Book – Recipes
This book will not only help you can safely, and successfully but its 221 pages will guide you on helpful recipes so you can preserve your bounty in beneficial ways!
You'll find 50+ Proven Canning Recipes – pressure and water bath canning instructions for fruits, vegetables, meats, and more to stock your food storage.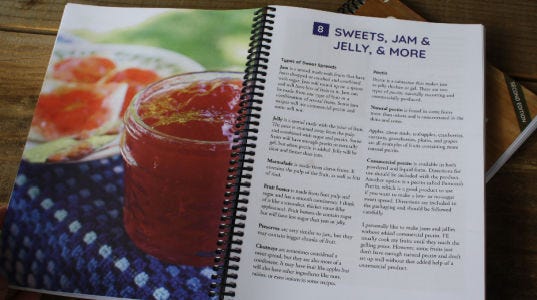 Pressure & Water Bath Canning Tips & FAQs
The book answers a lot of canning questions including – When you should use water bath or pressure canning. Choosing the best foods to preserve, which preserving methods work best for which foods and why, and which preserving methods are not safe.
Simply Canning Book Reviews
The new Simply Canning Book has received many great reviews. Read a few from Kathleen, L. G, and Susie below.
"I am a relatively new canner, have only done tomatoes before, and was really excited about getting this book. She gives you all the safe canning practices so you don't need to feel inhibited about canning. I love the pictures, the instructions are made easy for you to follow, you should have no problem becoming a canning novice in no time. Thanks so much for this wonderful book!!" -Kathleen D.
"This is a great book for canning. Each recipe gives you a list of what you need as well as safety requirements and you don't have to constantly go back and find information on another page. Makes canning so easy and the recipes are not a bunch of weird ingredients. Just basic things everyone would like. Love it!! -L.G.
"This is clear and easy to understand for first timers. Practical and creative at the same time. It leads forward. I have really appreciated the comfort of having it close by to refer to as needed. Thank you so much for sharing with all of us." -Susie A.
Where to Buy
If you are interested in buying the Simply Canning Book go here. If you still aren't sure, we encourage you to sign up for Simply Canning's email list. We think you'll quickly see what a great resource Simply Canning is for the home food preservation community!
Simply Canning School
If you are more of a visual learner. Sharon has also created a Simply Canning School. There are a variety of video courses from basic canning to pressure canning, to vegetable gardening. See all the courses here.
---
Disclosure: This post is part of an ongoing partnership with Simply Canning. All thoughts and opinions expressed remain our own.