This soothing lavender milk bath soak is so easy, and it doesn't require ingredients that are expensive or hard to acquire. Jar it up and share it with those in your life who could use some gentle relaxation! This would be a great addition to your line, especially if you offer gift sets for special occasions like Mother's Day. We like to mix up a large batch at home so that we have some jars on hand for a charming gift topper, or to surprise someone with a reason to slow down and soak.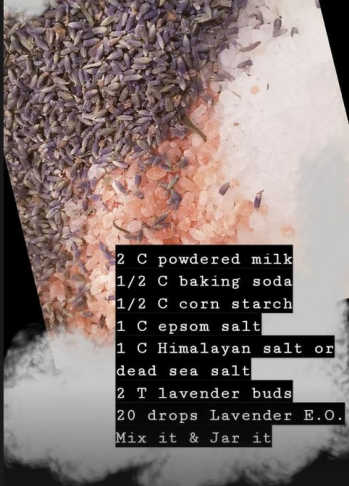 How to make the soothing lavender milk bath soak:
2 cups powdered milk
1/2 cup baking soda
1/2 cup corn starch
1 cup epsom salt
1 cup Himalayan salt or Dead Sea salt
2 T Lavender Buds*
20 drops Lavender Essential Oil
Mix all of the ingredients in a large glass or stainless bowl and funnel it into the glass vessels of your choice. Depending on the season or reason for gifting, you might choose different jars.
General use – pour about 1/4 – 1/2 cup into a warm bath. Soak. Relax.
Gifting Tips:
Consider including an ingredient list to cover any sensitivities or allergens.
If you don't want to have lavender buds* floating around in the tub, consider skipping the buds, and adding a few more drops of oil. Alternatively, you could include a little muslin pouch to contain the buds but allow the other ingredients to dissolve properly.
What are the best jars for Bath Soak or Bath Salts?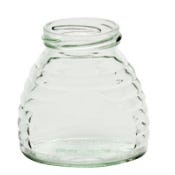 The best jar or bottle choice will depend on your end-user, the season, and the general style you may have in mind. As we head into warmer weather, we thought these charming Skep Hive jars would be cute. Like most of our jars, they come in a few sizes, so you could offer smaller portions (1 to 2 baths worth) or larger volumes that would last several weeks or months. If you're making these as favors or single bath portions, these Mayberry Jars, 2oz, or 4oz jars could be good options.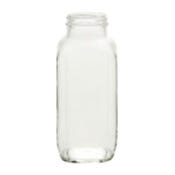 While almost any of our mason jars would look lovely setting by your tub, if you're looking for something more unique, check out the Muth Jars or French Square Bottles. You can even add shrink bands, to help ensure corks or lids stay in place during shipping. They also offer a more professional look while displayed in a retail setting.
Find more bath, body & home recipes here, or on our Bath & Body DIY Pinterest board.
We love to see how customers use our packaging, so please tag us if you share your pictures! @FillmoreContainer (Instagram) or @FillmoreTruScent (our Candle Bath & Body Facebook page).