We'd love to share that the return to pre-COVID supply chain logistics is in sight…but it's not what we're hearing from our manufacturers. One might say that when it comes to keeping packaging supplies in stock, 2020 was a practice run for 2021…and now 2022!
If you know us, you know that the high-pressure sale is not our style and that our purchasing habits had historically avoided out-of-stock issues. We aren't trying to be alarmist, but to share any information that may help you plan to the best that your resources will allow.
Update From Manufacturers
Because of the significant and sudden increase in demand last year, manufacturing facilities do not have what they normally would on their floor coming into the new year. While they have made efforts to maintain and increase manufacturing, there have been, and will continue to be limits on how quickly production can run.
Manufacturers need to maximize their production run schedules for efficiency- which results in longer lead times on most items. Those involved in all parts of the supply chain will also continue making choices for safety of their employees – which will likely increase lead times and ETAs.
The longer lead times, inability to provide ETA's, partial shipments and delayed load issues that we've seen in 2020 will continue to result in roller-coaster style re-stocking into this year.
What Are We Doing To Help
We continue to do everything we can to meet your product needs by being proactive with our sourcing. We continue to ship most orders earlier than promised, but due to the national surge in online sales and continued COVID spikes around the country, and within UPS (ground/package and/or LTL freight), there may be delays.
What Can You Do To Help
We encourage all our customers to review typical ordering habits and projections for the upcoming year. Consider the following and see if you are able to make any changes that might help keep you in regular production.
Ordering Tips for 2021 & 2022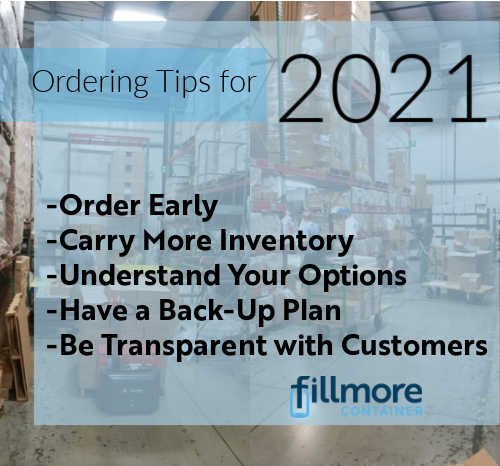 #1 – ORDER EARLY through the WEBSITE
Our website is open 24/7. Whenever possible, please do not email orders or call in to ask someone to place your order for you. While we do have a policy of returning all calls, priority must be given to questions about existing orders. To help us help you better; if you call in and our lines are busy please leave a detailed message so that we can most effectively help you. If your items are out of stock, sign up to be notified. When you receive that Back in Stock email, be sure to get your order in ASAP so that you don't miss out. Keep tabs on the status of your items…if you see that they go out of stock before you need to order again, be sure to sign up for Back in Stock notifications again.
#2 – CARRY MORE INVENTORY
If you have projections of what you think you'll use, order ahead as much as you can handle. Why? Because there will likely be a long wait for that item to run again. While we continue to have standing orders, those lead times are still longer. Plan on having a buffer of inventory on your floor.
#3 CONSIDER OTHER OPTIONS
Check out similar products in our line-up. Depending on what requirements your product or process has, there may be other viable options. This may mean an alternate style of jar or a different finish. Check out the description details and specs chart for important info like label panel height. If you're unsure of what might be suitable for your process or product, give our customer service a call for some insight.
*UPDATE: In order to bolster availability, we have begun sourcing several of our higher moving items with additional manufacturers. You can find these alternate versions mentioned in the Description paragraph or in the Related Items tab. Be sure to verify the specs of the container, finish and lid requirements to make sure you are ordering properly. If you are unsure, please give our customer service team a call or email.
#4 HAVE A BACK-UP PLAN
If you have a back-up supplier, that's ok with us. 🙂 Staying in production is important…we understand…and hope you'll be around for the long haul.
#5 BE TRANSPARENT
Be straight with your customers. Don't wait until the last minute to let them know that procurement is an issue. If you're working with a wholesaler, keep the lines of communication open so that you don't find yourself in breach of contract. We've seen sites with statements like "Lid styles may vary due to shortages." Making small statements like that can be helpful, especially when changing out product images is too big of an investment.