We've got a few soup mix recipes for mason jars that would be great for gifting, or maybe your own meal planning. 🙂
The aroma of a hearty soup makes our home a little warmer, calmer, and where one wants to be. Gifting soup mixes in jars can be a simple, thoughtful, and economical way to help someone warm up their home and take the work out of meal prep.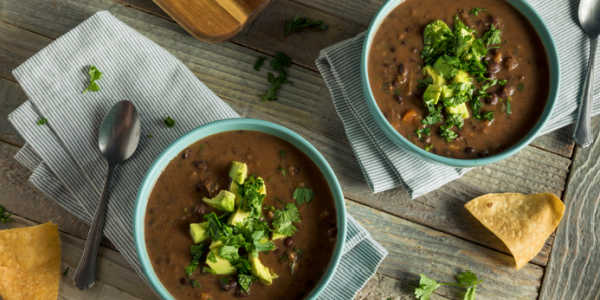 If you're afraid that the recipient may be receiving an over-abundance of prepared meals, or aren't sure what their meal plan may look like, these would be wonderful supplements. They're shelf-stable and can be thrown into action when needed.
A glass jar with an air-tight lid is the ideal vessel – appealing to the eye and can be re-used for leftovers. Since there is no preservation going on here, this is a good time to use jars and lids that you would not normally use for canning.
Vegetarian Spicy Black Bean Soup
This Vegetarian Spicy Black Bean Soup Recipe is written for a Quart Jar. It would easily serve a family of 5, with leftovers to spare. To prepare this for sharing, put both types of beans into the jar. Then, put all the spices into a small plastic bag, and place on top of the beans. The following recipe instructions should be shared with the recipient so they know how to prepare the soup. It's also a wise practice to include the entire ingredient list in case there may be allergens or sensitivities.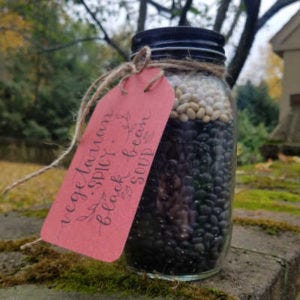 3

Cups

about 1 ½ lbs. dried black beans

1

Cup

about 1 lb. dried navy beans

1

T

dried onion flakes

2

tsp

garlic powder

2

T

cumin

¼ – ½

tsp

crushed red pepper

depending on your spice preference

1

tsp

celery seed

2

bay leaves

½

tsp

black pepper

1

T

chili powder

4

veggie bouillon cubes
In a large stockpot, combine beans, contents of spice packet, and 12 cups water.

Bring to a boil, reduce heat and simmer for 1 ½ to 2 hours. Stirring occasionally until the beans are tender and the soup is to your desired thickness.

Add a little water as needed while beans cook.

Remove the bay leaves before serving.

Serve as is, or topped with sour cream and sliced avocado, tortilla chips, or cornbread.
Pint Size Soup Mixes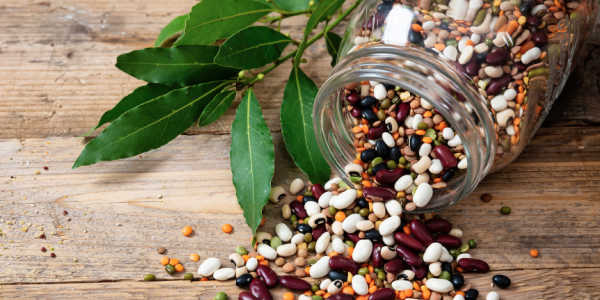 The following soup mix recipes are for Pints Jars. The end yield isn't quite as much and it doesn't require as much to make. This may be perfect for that that smaller family or elderly neighbor.
Cassie of Wholefully has a wonderful collection of homemade soup mixes in Pint Jars. Her recipes include: Spicy Black Bean Soup, Chicken Noodle, Five Bean Soup, Coconut Curry Soup, Split Pea Soup, and Italian Barley Soup. Get all the recipes here.

These recipes for 3 Bean Chili Mix, Slow Cooker Cajun Bean Soup Mix, and Broccoli-Cheddar Soup Mix from Heidi at 9010 Nutrition are great too!
Vegan Soup Mixes
This Garden Vegetable Soup Mix from Getty Stewart is a great vegan option.
Soup Mix Recipe – Tips
If you are preparing these for a larger family or would like to gift these in Quart Jars – just double the recipes. Do not forget to also double the amounts and make any other adjustments to the cooking instructions/notes as well.
Tips for Storing Leftovers Soup
Be sure to refrigerate leftover soup (and use within 6 days) or freeze leftover soup. I have finally learned that more than one "leftover" meal for my family is pushing the limits. I try to freeze leftovers or plan to share them right away so that they're less likely to go to waste.
Not all soups are freezer friendly – meaning they will lose some of their texture in the process.

Creamy soups don't respond well – they may appear to be curdled when reheated. While still certainly edible, they lack the typical appearance of what you'd choose to serve to guests.
Soups with pasta – be careful not to over-heat when re-heating, as the structure of the pasta may not hold up as well as you'd like. Consider setting aside what portion you will freeze before adding the pasta…then you can add the pasta later for a much fresher soup.

Freeze soups in use-able portions to avoid re-freezing or waste– use portions sizes that will work well for a work lunch or for a quick family supper. It's even better if you can use a container that is microwavable and will serve as the bowl.
Freezing Tips
Before you freeze leftover soup in jars, please read this post about how to safely freeze in Mason jars. Or watch the video below.
Dinner Recipe Mixes
In addition to gifting soup mixes, preparing seasoning mixes for easy meal prep is a great staple to add to anyone's pantry. Simply Canning has a couple of great mixes – Beef Fajita Mix, Taco Seasoning, Peanut Chicken. Check out the post for the recipes, and see how they were packaged in some of our festive jars & lids.