If you canned some cherry pie filling this year, you'll want to try this Cherry Rhubarb Cobbler recipe. Thanks to Sharon from Simply Canning for sharing the recipe with us!
Simply Canning, is a great resource for information on canning safety, recipes, canning tips and how to's. The articles are easy to read and understand, The information is valid for newbie & veteran canners. If you haven't checked it out, yet…you should!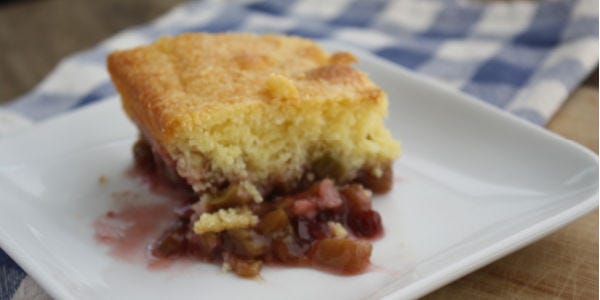 Preserves in Action
Cobbler is an easy dessert to make if you've got fruit on hand. It can actually be made with either canned fruit or canned pie filling, and a great way to put your preserves into action. I love the pie filling version. Made with my homemade pie filling, and fresh rhubarb from the garden makes it extra good!
Strawberry and Rhubarb are a traditional combination. But did you know Cherry works just as well? Maybe better! Cherry Rhubarb is my favorite combination for either cobbler, or pie too.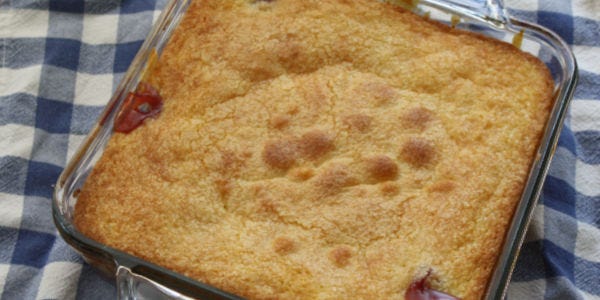 An Easy & Flexible Dessert
Cobbler recipes and styles abound. Some are more fruit, some are more topping. The topping can be more of a biscuit that is dropped by spoonfuls on top of the fruit, or it can be more of a crust. This recipe has a nice cake texture to the topping that was a hit with my family.
I made this Cherry Rhubarb Cobbler in a square 8-inch baking dish. If you are serving a crowd, it could also be made in a 9 x 13 pan. Simply double the fruit filling portion and spread the cobbler topping thinner. The top won't be as thick as mine but it will serve more people.

Cobbler
1/2

cup

softened butter

1

cup

sugar

1

large egg

1

cup

all-purpose flour

1

teaspoon

baking powder

1/2

cup

whole milk
Gently stir pie filling and chopped rhubarb together then place in a 8-inch square baking dish.

Mix together, butter, sugar, egg, flour, baking powder, and milk. Stir well and pour over the fruit.

Bake at 350 for approximately 50-60 minutes. You want the top just lightly browned and the fruit filling bubbly.
Customize your Cobbler
This recipe would work well with apple or peach pie filling as well. If you haven't canned pie filling before it's easier than you think. Simply Canning has some great tips here.
If you are hoping to expand your canning capabilities. Check out Simply Canning's canning courses. You can learn a variety of home food preservation methods so you can fill your pantry and feed your family. Learn more here.