There are several ways to save on your shipping cost with Fillmore Container.

Wondering why we don't offer free shipping? Read more about that here.
Use the Shipping Estimator
Use the Shipping Estimator located on the right hand side of your cart to see how adjusting item quantities impacts your shipping. If you see a sudden jump in the shipping cost, you likely just added enough to require an additional shipping carton. Depending on your pattern of use, you may want to add more to max out that next carton. You can see examples of this in the following sections.

Helpful Hints To Save On Shipping From Fillmore Container
If you are ordering regularly and receiving your orders in cartons, look at your order history to see if you could afford (the money and the space) to place larger orders less frequently.
Instead of getting 4 or 5 huge cartons delivered to your door every 2 weeks, you could more than double the size of your order for about the same shipping cost.
Make sure you review the Wholesale Discount Pricing Tiers for additional discounts on products. If you are purchasing a large wholesale quantity of a product, you may benefit from a lower price according to the wholesale discount tier.
In general, our customers see substantial savings on product and shipping costs when they are able to consolidate their orders.
---
Maximize Shipping with Larger Orders
The following examples indicate the savings that can be achieved by ordering larger quantities.
Example #1 – 64 cases of G04-06C
---
Example #2 – 128 cases of G04-06C
This quote included an addition for a liftgate cost. In spite of those needed line items, the total shipping cost was only $49 more, but the case quantity was doubled!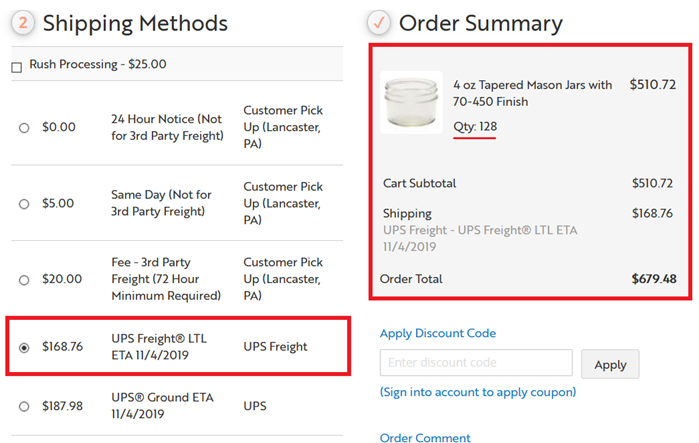 ---
Example #3 – 280 cases of G04-06C
To further demonstrate the savings that can be gained through larger shipments, we more than doubled the quantity of jars from 128 to 280 cases. Again, the quote included an addition for a lift gate. For an extra $62 in shipping cost, you could get an additional 152 cases.
---
What about Palletized Shipping?
If you are ordering much larger quantities than discussed above, you might want to consider Palletized Shipping, which can save money on shipping costs and often on products as well. It's important to know if palletized shipping is a viable option for you. In this post, we explain what LTL shipment or a Palletized Shipment is, and what it entails.
Hopefully, you'll find our delivered cost to still be favorable to that of our competitors. If not, know that we'll keep trying to mitigate the costs of shipping and pass the savings along to you.