We've got two "cool" drink ideas for those hot summer days! It is super easy to make the Patriotic Layered Drink and Cranberry Fizz. Your guests will be impressed (even though there's nothing to it)!
These recipes were originally created by Yesterday on Tuesday!
Patriotic Layered Drink
We used our Handled Mason Jar Mugs and Star Themed Paper Straws to take these patriotic drinks to the next level! To make the drinks, you'll need diet lemon lime soda, blue Gatorade (believe it or not, there is more than one shade of blue Gatorade that would work for this) and Cranberry Juice. You'll also want to have some ice cubes on hand.
Sip and enjoy!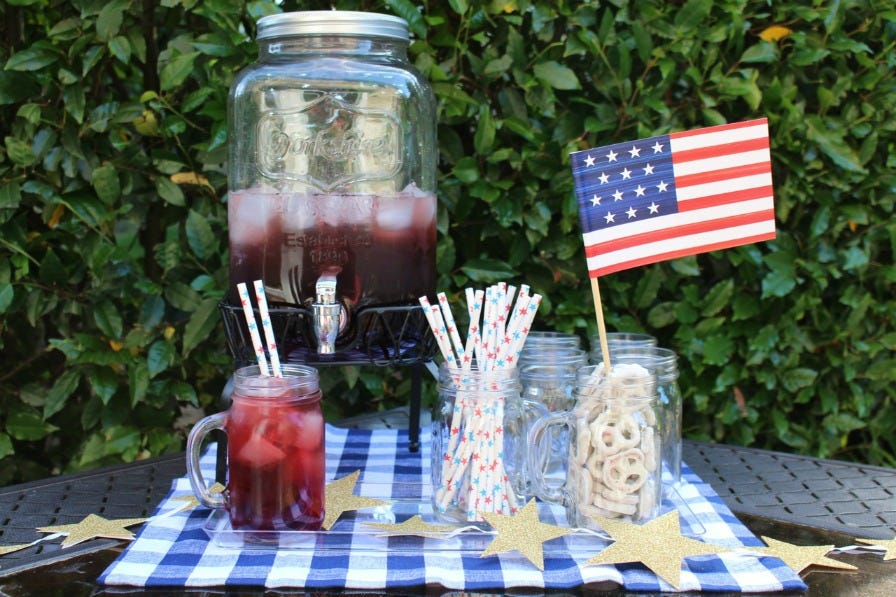 If you are hosting a group, this drink is best made in a big batch. All you need is equal parts of diet lemon lime soda and cranberry juice. Don't forget the ice! We used our Yorkshire Beverage Dispenser but our Lancaster Beverage Dispenser would work great too!
Pair your 4th of July celebrations with our patriotic products, and a portion of the proceeds will benefit the Wounded Warrior Project. Find out which products are eligible here.
In addition to our patriotic straws, we carry more than 40 paper straw designs/colors! From polka dots, to gingham, to chevron, to stars and stripes, to camo and cow print, solid colors and so much more. Our paper straws are made from FDA approved materials and non-toxic, food contact safe inks and made in the USA. You can learn more about why our paper straws are safe and eco-friendly here.