(Updated June 29, 2020)
This recipe, from Mrs. Wages, offers a great way to enjoy Jalapeno peppers and not suffer from the heat in the process! They still offer a kick, but pickling them mellows out the heat. Add the pickled peppers to tacos, nachos, or pulled pork sandwiches. Top a pizza or bowl of chilli with them, or chop them up and add them to the batter for your next batch of cornbread! Yum!
The original recipe is published on www.mrswages.com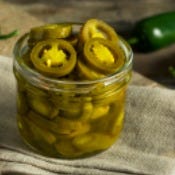 1

pint

jalapeño peppers

1

cup

vinegar

1/4

cup

water

1

tsp

Mrs. Wages Canning & Pickling Salt

1

tsp

Mrs. Wages Mixed Pickling Spices
Wash peppers thoroughly and pack tightly into jar, leaving 1/2-inch head space.

Combine vinegar, water, salt, and pickling spice in medium sauce pan. Bring to a boil.

Carefully pour boiling hot liquid over peppers to within 1/2-inch of jar top. Adjust lid.

Process 10 minutes in a

boiling water bath.