(Updated July 3, 2020)
We hosted a hands-on canning class, taught by Marisa McClellan of Food in Jars, focused on low temperature pasteurization. If you aren't familiar with this preserving method, we've got all the details below.

What is low-temperature pasteurization?
It is a preservation technique in which you simmer your filled jars in water that's between 180 and 185 degrees F. You do this for a longer period of time than you would normally process them in a boiling water bath canner. The longer, lower temperature allows you to kill off bacteria while achieving the goal of retaining a firmer texture pickle. Here's the basics of the preserving method along with the pickle recipe that we made during the class.
Why use low-temperature pasteurization?
Have you ever made a batch of pickles with the highest of hopes, only to open up the jars in October or November and find flavorful but soft, soggy slices or spears? If this is something you've experienced, you probably found yourself wondering, "How can I make crunchy, shelf-stable pickles?" If that sounds familiar, then low-temperature pasteurization may be for you!
What do I need?
All you need to try out this style of preserving is a canning pot, an adjustable heat source, and a reliable thermometer. You may need to practice a little to figure out how to get your water to maintain the proper temperature. However, once you do, you'll be rewarded with crisp, snappy pickles!
RECIPE
Garlic Dill Pickles
Yield: 10 pints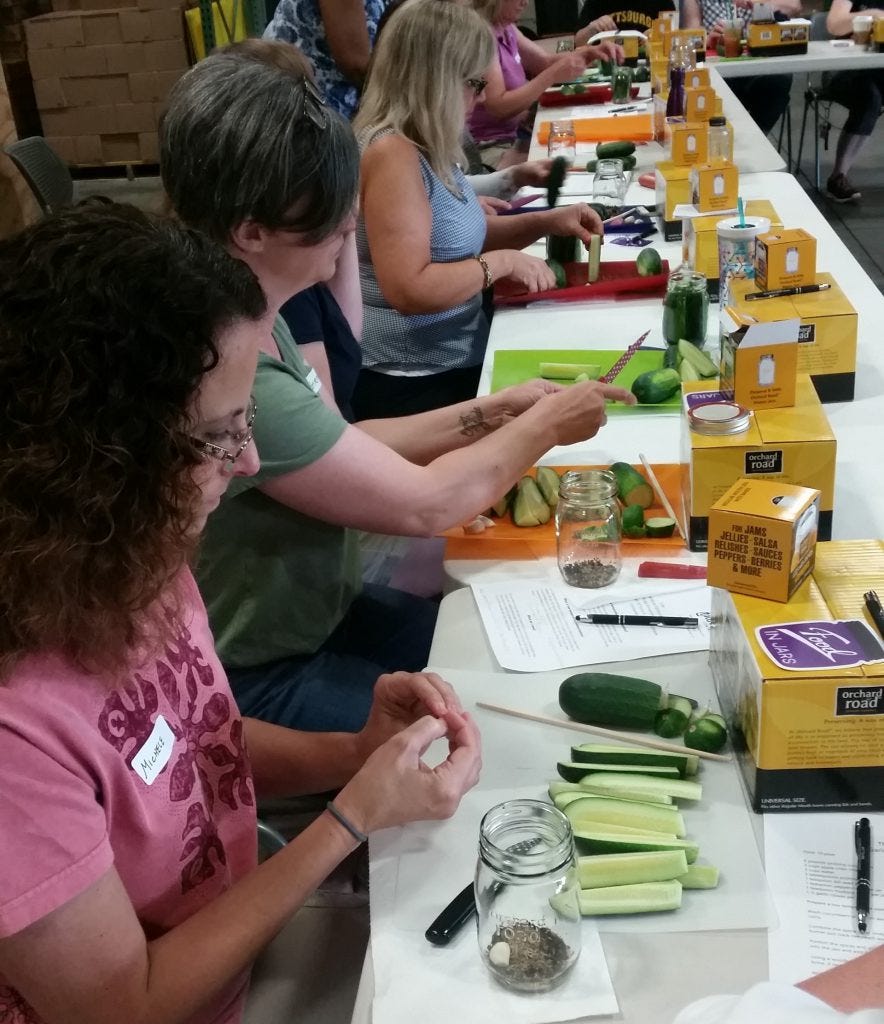 Ingredients
6 pounds pickling cucumbers
3 cups apple cider vinegar
3 cups water
3 tablespoons pickling salt
1 teaspoon dill seed per jar
1 teaspoon peppercorns per jar
1 teaspoon mustard seeds per jar
1-2 garlic cloves per jar
Prepare a low-temperature pasteurization pot and 10 pint jars.
Wash cucumbers well. Trim away the blossom end, which is a very important step. While trimming the cucumbers may seem wasteful, there's an enzyme (pectinase) that will cause your pickles to become soft. Trim about 1/16 inch from that blossom end before pickling. After trimming, cut cucumbers into halves, spears, or coins.
Combine the apple cider vinegar, water, and pickling salt in a saucepan or 4th burner pot (rack removed) and bring to a boil. (Read more about our versatile 4th burner pot here.)
Portion the spices and garlic cloves into the prepared jars. Pack the cucumbers into the jars and add the brine, leaving 1/2 inch headspace.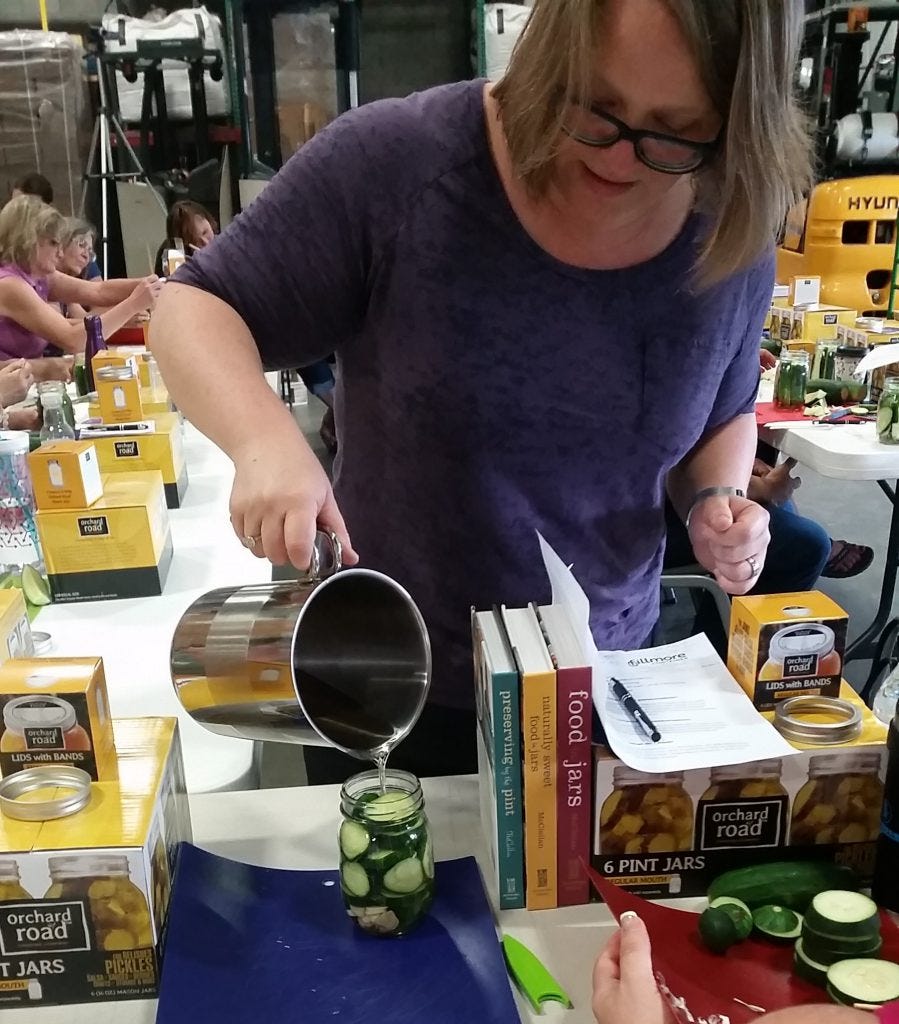 Using a wooden chopstick, wiggle out any trapped air bubbles, and add more brine, if necessary.
Wipe the rims, apply the lids and rings, and process in a boiling water bath canner or in a low temperature pasteurization pot for 25 minutes at 180F.  Note the thermometer clipped on the water bath canner in photo below.
When the time is up, remove the jars and set them on a folded kitchen towel to cool.
When the jars have cooled enough that you can comfortable handle them, check the seals. Sealed jars can be stored at room temperature for up to a year. Any unsealed jars should be refrigerated and used promptly.
Save
Save
Save
Save
Save
Save
Save
Save
Save
Save
Save
Save
Save
Save
Save
Save
Save
Save