If you're a couple of years into your herb garden, you've likely realized that there are some herbs that you just can't keep up with. Some of them – like our Thyme, Oregano and Savory – faired very well over the winter, had expanded their growth area and were bursting with new growth.
I knew a large quantity of aromatic leaves would go to waste if I wasn't able to preserve them quickly. I didn't have a dehydrator or an ideal drying location in our home, so I turned to our oven to dry some fresh herbs and fill jars of dried herbs ready for cooking! Here's how to dry herbs in your oven.
Here are the basics:
Space oven racks for optimal circulation and preheat your oven to the warm setting, or 200 if that setting isn't available.
Trim and clean your herbs, removing any unsavory leaves and extra stalks/stems. Try to remove as much of the water from washing as you're able…by gently swinging them in a large towel or sack, or patting them dry. The dryer they are going in, the more evenly they will dry in the oven.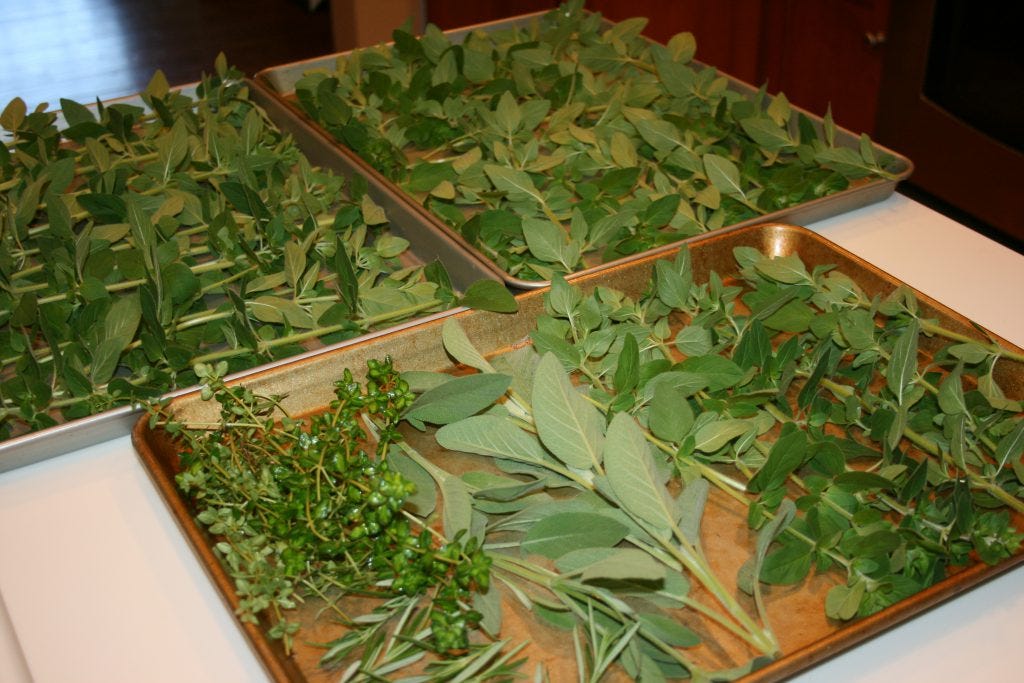 Lay your herbs in a single layer on large cookie sheets. If you line them, it will make it easier to collect the leaves as they fall off, but it isn't a required step. Different herbs will dry at different rates, so try keeping like herbs together so that they may be removed together.
Put them in the oven. Place a silicone spatula or spoon in the opening of your oven to wedge it open a bit so that the steam doesn't build up. Check on your herbs after 10 minutes. If you have multiple trays, you may need to just keep checking occasionally to ensure that they don't get burned.
When your leaves are good and dry, remove them from the oven and allow to cool until you can handle them. Then gently strip the leaves off of the stems. If your oregano leaves are on the larger size, you can just break them up by grasping the stem and sort of crushing them.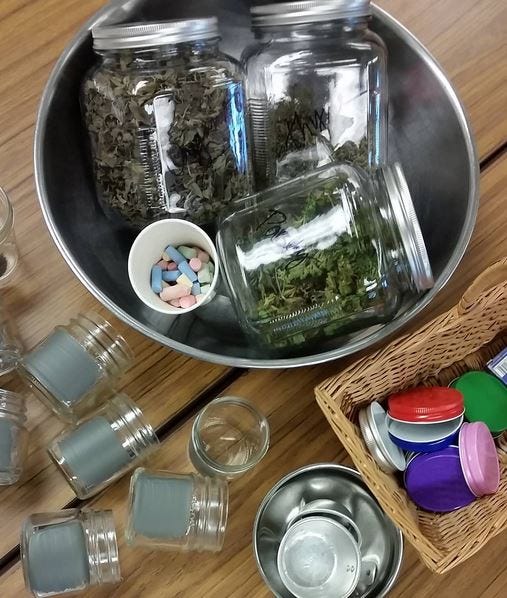 When the dried leaves are completely cooled, funnel them into the jar of your choice and label & date them.
Here, we used the cracker jars as master storage, which allowed us to keep the leaves more intact.
Using chalkboard paint, we made panels for labeling on a variety of 8oz jars. We filled the smaller jars, wrote the herb name in chalk and capped them with some colorful single-piece lids.
Other options…
If most of your recipes call for a combination of herbs which you've just dried, you can mix them together before jarring.
If you wish for a more finely finished product, you may crush them more completely. Our spice jars paired with the pour sift caps work well for this, or you can re-purpose spice jars that you may already have on hand.
Drying herbs isn't the only way to preserve or extend their goodness! Here are a few of our most popular herb related posts:
Once you make Herbes Salées from the amazing Batch Cookbook, don't be surprised if it becomes a regular habit!
Freezing Herbs in olive oil is a low fuss method that yields great rewards when your herbs are buried in snow.
This round-up of Homemade Salad Dressings and Vinaigrette Recipes will help you use both fresh and dried herbs.
Save