Updated – July 29, 2020
Did you know the third edition of The Joy of Pickling has 50 brand new recipes! We chatted with Linda Ziedrich, the author, and she shared a bit about what preservers can expect from the third edition, as well as a recipe from the book – Fermented Tomato Salsa.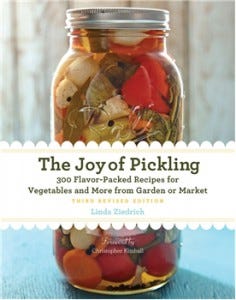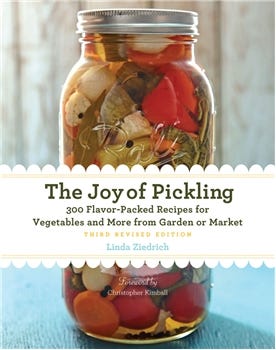 The third edition reflects my pickling research of the past eight years. There are new fermented pickles, including green olives, whole watermelons, whole cabbages, Jerusalem artichokes, kohlrabi grated and cured like kraut, and, for the small-scale fermenters, small-batch krauts with beet, kale, and carrot and onion added.
Readers will enjoy trying my new relish recipes, including this fermented tomato salsa recipe. Because chopped tomatoes are especially prone to spoilage, fermenting prepared salsa is tricky; most people who do this add whey or keep the fermentation very short. But you can make a fully fermented, deeply flavorful salsa by fermenting the vegetables whole before you chop them.
Save
Save
Save
Save
Save
Save
Save
Save
Save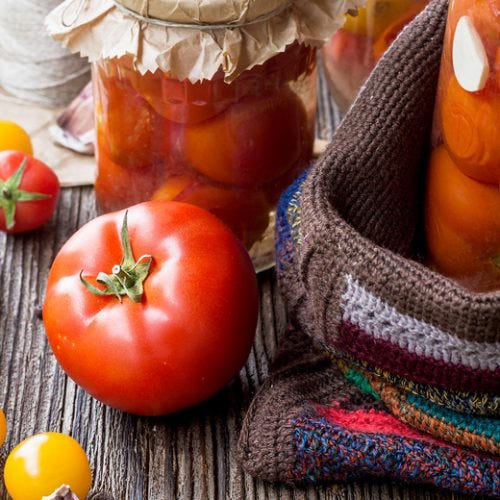 1 ½

pounds

firm

meaty whole tomatoes, ripe or semi-ripe

½

pound

green jalapeño peppers

tops sliced off

¼

pound

onion

peeled and cut into chunks

3

garlic cloves

peeled

1

teaspoon

whole cumin seeds

2

tablespoons

lime juice

2 ½

tablespoons

1 ½ ounces pickling salt

1-

quart

water
Mix the tomatoes, peppers, onion pieces, garlic, and cumin together in a two-quart mason jar. Add the lime juice.

In another container, dissolve the salt in the water. Pour the brine over the vegetables, and weight them. Cover the jar (use an airlock, if you have one), and keep the jar at cool room temperature. Skim off any yeast or mold that appears.

After three weeks, cut a pepper vertically to be sure it has completely changed color, from bright green to olive green. If it has, gently transfer all the vegetables to a bowl, taking care not to burst the tomatoes, which will have swelled.

Coarsely grind the vegetables, in batches, in a food processor or blender. Transfer the mixture to one or more smaller jars, and store them in the refrigerator. The salsa should keep for weeks.