Review of New Anchor Hocking Jars
This week, we are sponsoring a giveaway with Food in Jars. We sent her a couple of cases of our recently added line of Anchor Hocking jars.
These new regular mouth jars are available in Half Pints – 8oz, Pints – 16oz., and Quarts – 32oz. We love these new jars because they are smooth on all sides, sport a softened square shape and shoulders and are perfect for labeling. Find out what Marisa McClellan loves about them in her review of the Anchor Hocking jars.
It's important to note that these jars do not come with lids, which offers a lot of flexibility in selecting your own closures. If you intend to use them for traditional two-piece canning, the jars work perfectly with Ball's two-piece lids.
In the demo, and recent blog post, Marisa filled the new Anchor Hocking Half Pints – 8oz with this Strawberry Meyer Lemon Jam. Now, I know we are partial, but we think these new jars display preserves just beautifully. Perfect for your pantry, or gifting to friends. The smooth sides make labeling a snap.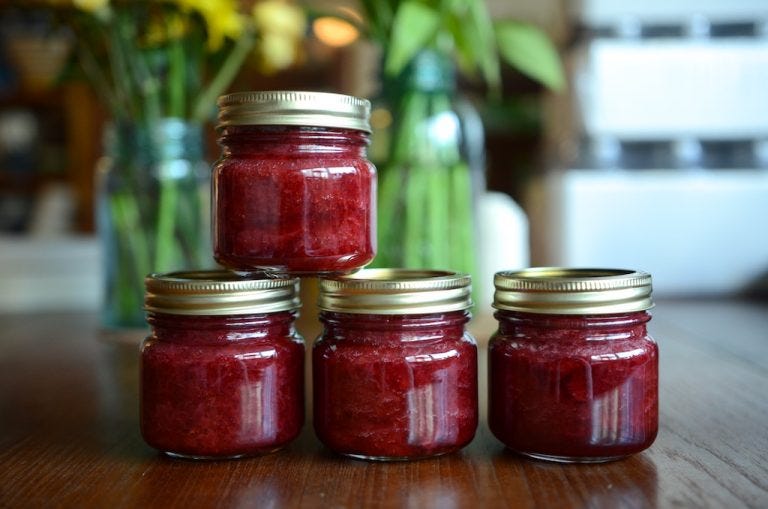 GIVEAWAY
Don't forget to enter to win a case of the Anchor Hocking jars (jar size is winner's choice), a dozen lids and rings, and a $25 gift card, good on our website (perhaps you'll want to use it to get a copy of Marisa's Naturally Sweet Food in Jars!). Go here to ENTER. This giveaway is open to US and Canadian residents.
Save
Save
Save
Save
Save
Save
Save
Save
Save
Save