Updated June 2023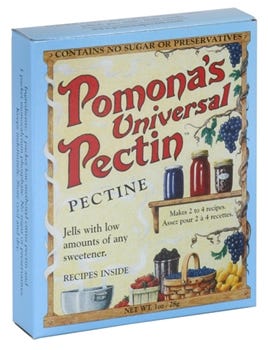 Over the years, we've tried and shared quite a few recipes using Pomona's Pectin…so we've pulled together a few of our favorite jam and jelly recipes here in our Pomona's pectin jam recipe roundup!
If you aren't familiar, Pomona's Pectin is a sugar-free, preservative-free, low-methoxyl citrus pectin that does not require sugar to jell. It enables you to make jams and jellies with little to no sugar, or by using alternative sweeteners such as Stevia or honey. By reducing the sweetener, you can make a healthier version of your preserves in which the fruits are the true stars! For those of us that love to jam, but are trying to reduce the amount of sugar in your diet, Pomona's is the way to go. To learn more about making low sugar or sugar-free jam with Pomona's read this, or consider getting the book Preserving with Pomona's Pectin. Within each packet (the one shown here OR the bulk bag), there are complete instructions that allow you to confidently make jams & preserves while adjusting the amount and type of sweetener you desire. You can also adjust the amount of pectin for the type of set you prefer. If you prefer a less gelatinous jam, or are using fruits higher in natural pectin, you can reduce the amount of Pomona's that you use in the recipe.
Save
Save
Save
Save
Save
Pomona's Pectin Recipe Round-Up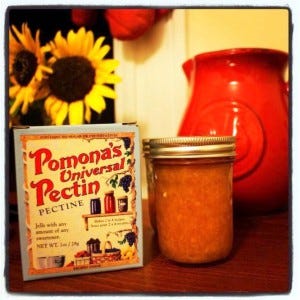 Yield: 4 to 5 half-pint (8-ounce) jars.
This recipe is reprinted from Preserving with Pomona's Pectin by Allison Carroll Duffy (Fair Winds Press, June 2013).
"If I were to eat any jam by the spoonful (which I admit to doing on occasion), this would be the one. I also love a big dollop of it on vanilla ice cream. It's great in baked goods, too – as a filling for cookie bars or even turnovers. The deep intensity of maple and vanilla, combined with the lusciousness of fresh peaches, is just heavenly," said Allison Carroll Duffy, the author.
Before You Begin: Prepare calcium water. To do this, combine ½ teaspoon calcium powder (in the small packet in your box of Pomona's pectin) with ½ cup water in a small, clear jar with a lid. Shake well. Extra calcium water may be stored in the refrigerator for future use.
Wondering what calcium water is? Calcium water is a solution of the monocalcium phosphate powder (food-grade rock mineral source) that comes in its own packet with every purchase of Pomona's Pectin. The Pomona's Pectin directions tell you how to make calcium water with the calcium powder. Pomona's Pectin recipes call for calcium water because the pectin is activated by calcium, not by sugar. You can read more about calcium water here.
3¼

pounds

fully ripe peaches

See "Perfect Peaches!" tip below.

1

vanilla bean

We get ours from Beanilla

¼

cup

lemon juice

4

teaspoons

calcium water

¾

cup

pure maple syrup

3

teaspoons

Pomona's pectin powder
Wash your jars, lids, and bands. Place jars in canner, fill canner 2/3 full with water, bring canner to a rolling boil, and boil jars for 10 minutes to sterilize them. (Add 1 extra minute of sterilizing time for every 1000 feet above sea level.) Reduce heat and allow jars to remain in hot canner water until ready to use. Place lids in water in a small sauce pan, heat to a low simmer, and hold until ready to use.

Peel and remove pits from peaches, and then mash the peaches in a large bowl.

Measure 4 cups of the mashed peaches (saving any extra for another use), and pour the measured amount into a saucepan. Using a paring knife, slice the vanilla bean in half lengthwise and scrape out the seeds. Add the vanilla seeds and the bean pod itself to the fruit, along with the lemon juice and calcium water. Mix well.

In a separate bowl, combine maple syrup and pectin powder. Mix thoroughly and set aside.

Bring fruit to a full boil over high heat. Slowly add pectin–maple syrup mixture, stirring constantly. Continue to stir vigorously for 1 to 2 minutes to dissolve pectin while the jam comes back up to a boil. Once the jam returns to a full boil, remove it from the heat. Using tongs, carefully remove the vanilla bean pod from the jam and discard.

Can Your Jam: Remove jars from canner and ladle jam into hot jars, leaving ¼ inch of headspace. Remove trapped air bubbles, wipe rims with a damp cloth, put on lids and screw bands, and tighten to fingertip tight. Lower filled jars into canner, ensuring jars are not touching each other and are covered with at least 1 to 2 inches of water. Place lid on canner, return to a rolling boil, and process for 10 minutes. (Add 1 extra minute of processing time for every 1000 feet above sea level). Turn off heat and allow canner to sit untouched for 5 minutes, then remove jars and allow to cool undisturbed for 12 to 24 hours. Confirm that jars have sealed, then store properly. Eat within 1 year. Lasts 3 weeks once opened.
Tip: Perfect Peaches!
This recipe requires mashed peaches, so be sure that your peaches are fully ripe and soft enough to mash. If they're not, however, simply place peeled, pitted, chopped peaches in a saucepan with ½ cup water. Simmer for 5 minutes to soften them, and then mash. (There is no need to drain the water after cooking—simply mash the peach mixture as is.)
---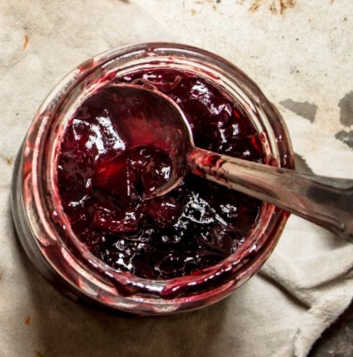 9

cups

pitted sweet cherries

2

lemons – zested & juiced

3

teaspoons

calcium water

2

cups

sugar

3

teaspoons

Pomona's Pectin

1

vanilla bean
Prepare a boiling water bath and 8 half-pint jars.

Combine your pitted cherries, lemon zest & juice, calcium water, and about 1/4 cup – 1/2 cup water in a large jam kettle. Cover and bring to a gentle boil and allow the fruits to soften and release their juices. Stir frequently to avoid scorching.

Slice open your vanilla bean and scrape out the contents and add to the fruit. You can also throw the remaining bean in, but remember to take it out before blending.

In a bowl, mix the sugar & pectin with a whisk.

When the fruit has softened, use a potato smasher to gently break up the fruits. Just enough mashing to ensure softness and to locate and remove the lemon seed and a few cherry seeds that managed to get into the kettle. If you prefer a less chunky jam, you may chop more or use your immersion blender.

When your fruit is to the consistency you desire, add the sugar and pectin mixture and stir well to combine.

Bring the fruit to a boil and allow it to boil vigorously for another 4 – 6 minutes until the jam begins to thicken.

When the jam has reached a good consistency, remove it from the heat.

Process in a water bath for 10 minutes.

At the conclusion of the 10 minutes, remove the jars from the canner and place them on layered kitchen towels to cool.

After the jars have sealed and cooled, remove rings from the 2-piece and label them all. If any of your jars didn't seal, store those in the fridge and use first.
This recipe can be easily doubled. We also mixed our cherries using a combination of light sweet, and the dark cherries
---
More Pomona's Pectin Recipes
Strawberry Rhubarb Jam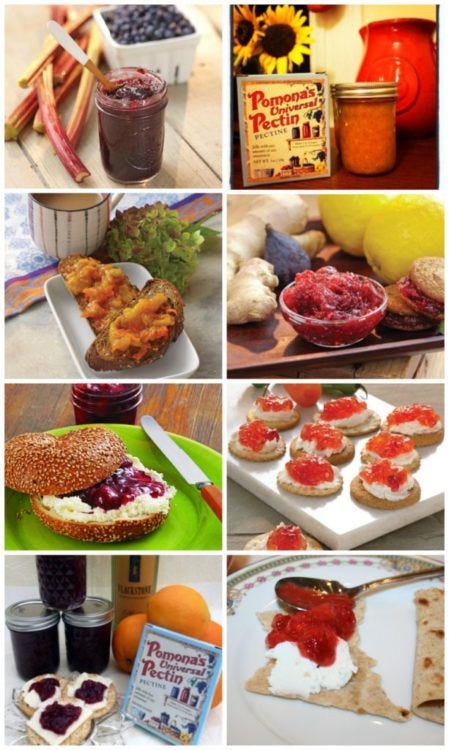 Low Sugar Strawberry Vanilla Jam
Pear-Cranberry Conserve with Almonds and Crystallized Ginger
Lavender Vanilla Bean Strawberry Jam
What preserves have you tried with Pomona's pectin? Do you have any that we should add to our Pomona's pectin jam recipe roundup?