(Updated – May 28, 2020)
We've been enjoying locally made Shrubs for a couple of years now and have had it in my mind that I really need to try to make some homemade versions.
I had some frozen Black Cherries and fresh Raspberries on hand and the following recipe for Black Cherry Shrub was born!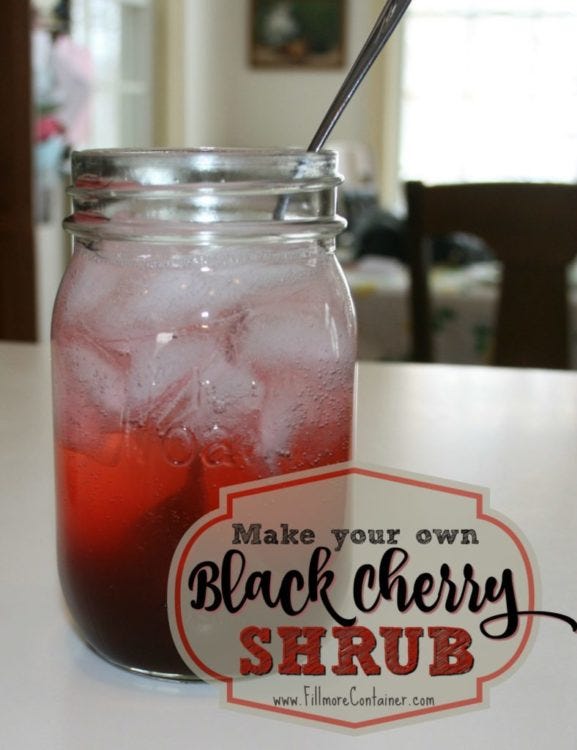 This recipe calls for cooking fruits, and it took almost no effort. I also made a cold process recipe, which is just as simple, but it takes more "sitting" time. A little fruit can go a long way when making shrubs – since the end product is usually enjoyed mixed with something else. It's a great way to rescue that small portion of fruit that didn't get used up or that you've uncovered in a freezer clean-out!
We enjoy shrub over ice, with seltzer. The ratio depends on th strength of the shrub – which varies with the type of fruit(s) used. We usually use about 1 part shrub to 4 or 5 parts seltzer.
The generally accepted ratio for a shrub is equal parts fruit, sugar & vinegar. Here, I cooked the fruit in order to speed up the entire process, so this required some water.
Ingredients:
1 cup Black Cherries
1 cup sugar
1 cup water
1 cup vinegar (apple cider vinegar is our preference)
In a saucepan, simmer equal parts water & sugar until the sugar is completely dissolved.
Add the fruit and simmer until fruit is sufficiently softened and can easily be crushed.
Crush fruit to release the juices and allow to cool.
Pour through a fine sieve or straining funnel and collect the juices. If you want to maintain higher clarity of your shrub, just allow the juices to drip through. At this point, you may choose to save the fruit syrup as is OR you can add your vinegar to complete the shrub.
5. Cap it, label it and store in your refrigerator. I love keeping some of these French Square bottles on hand for things like this…they look so pretty, but are also great space savers and fun for sharing! Stout Bottles are another unique container option.
Don't throw out that fruit meat!
What remains will vary depending on the fruit you used, but it may still be useful. You can use it in a milk kefir secondary ferment, or stir into your yogurt, cottage cheese, or use it to flavor your oatmeal. You can also work it into some applesauce.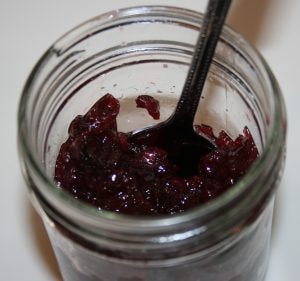 Shrubs will continue to happen in our kitchen for a couple of reasons…it's a great way to really stretch the flavor of a small amount of fruit…whether it's a hand full of fruits that just aren't plate-worthy, those extras from a batch of jam or those little bits of fruit that got tossed in the freezer in a panic. There is little to no waste if you put the sweetened pulp or meat to work in other ways!
Have fun playing around with different fruits & spices! As I'm putting the finishing touches on this blog post, I have some peaches with some ginger slices & vanilla bean simmering on the stove for what I can only imagine will be an intoxicating shrub!
Here are a few more enticing flavor combinations and shrub recipes for you to try: