We had quite a few grapefruit from the holidays and it was quite apparent that if I didn't do something with a goodly portion of them now, some of them may end up feeding our worms. Their peels had begun to dry out a bit and sadly, the opportunity for marmalade had passed. I set out to find a way to use those tangy grapefruit meats.
I discovered that there simply are not many Grapefruit Jam recipes to be had. I suppose that shouldn't have been a surprise since their distinct flavor is so strong. In fact, the only one I could find was posted by Marisa, on Food in Jars. I wanted to add something fresh & savory to the flavor profile to change it up a bit, so I headed to my garden and snipped the nicest sprigs of rosemary I could find. I was quite pleased with the end result, but then, I love grapefruit! Here it is…thanks to Marisa!
Rosemary Grapefruit Jam – yields will vary, but I got 4 8oz jars with some to spare
Ingredients:
2 1/2 cups sugar
4 lbs of Supremed Grapefruit meats & juices (about 8 – 9 grapefruits)
several fresh Rosemary Sprigs (washed well, with any discolored leaves removed)
Supreme your grapefruit, collecting all of the meat and juice in a large bowl, and setting aside the seeds.
Carefully pour all of the meat and juices into a large, wide nonreactive pot and add the sugar.
Take the seeds you've collected and place them into a tea ball (as I did) or, if you'd rather, you can gather them up in a folded piece of cheesecloth, and put the contained seeds into the pot. This will allow you to extract a bit more pectin to aid with your set. Add your rosemary sprigs. I tucked mine into the latch on my tea ball. However, you could just strip the leaves off of the woody parts so that you don't have to fish them out later.
After stirring the mixture until the sugar is dissolved. If you are using a thermometer that attaches to your pot, attack it now, before it gets too hot to touch. Take the time to make sure that the tip of the thermometer isn't touching the bottom of your pot, and that the sensor is as far under the surface of the mixture as possible. As this cooks, you'll lose some volume and you want the sensor to continue to provide an accurate read.
Crank up the heat and bring it to a boil. While stirring regularly, continue to boil until it has reached 220 degrees and passed the plate test. (important tip from Marisa – turn off the gas, or remove from heat while you're testing to avoid scorching)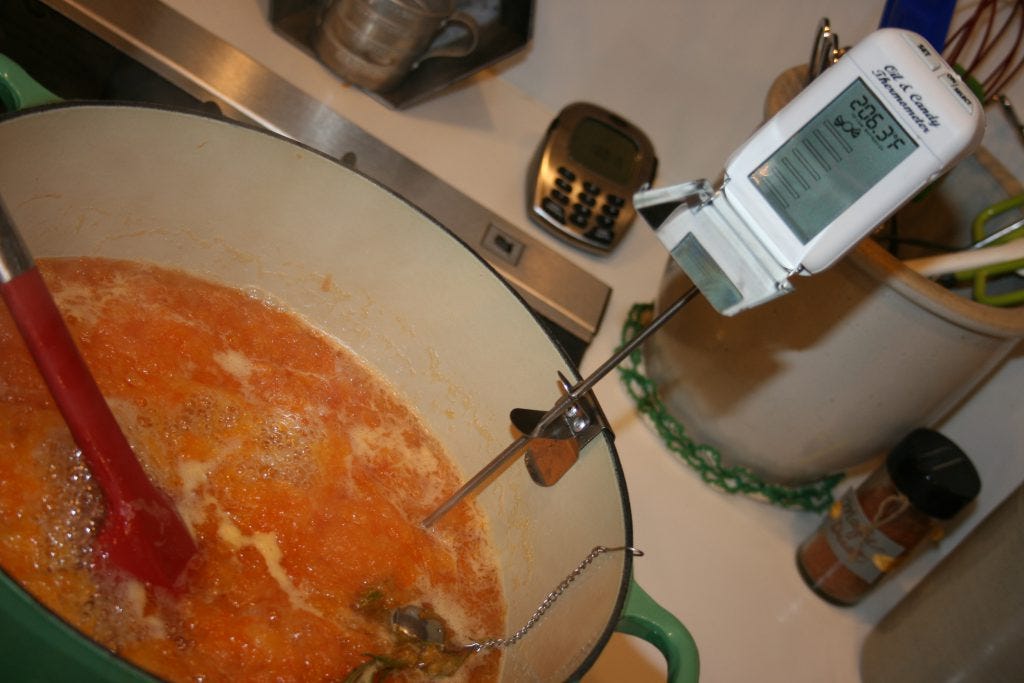 When you are pleased with the set, remove from the heat, remove your thermometer.
Funnel into your prepared jars of choice, allowing 1/4 inch headspace. Clean rims, apply lids and process in a boiling water bath for 10 minutes.
Remove jars from your canner & allow them to completely cool, untouched. If you used 2-piece lids, remove the bands and test the seal. Store them in a cool place out of direct light. Refrigerate or freeze any unsealed jars.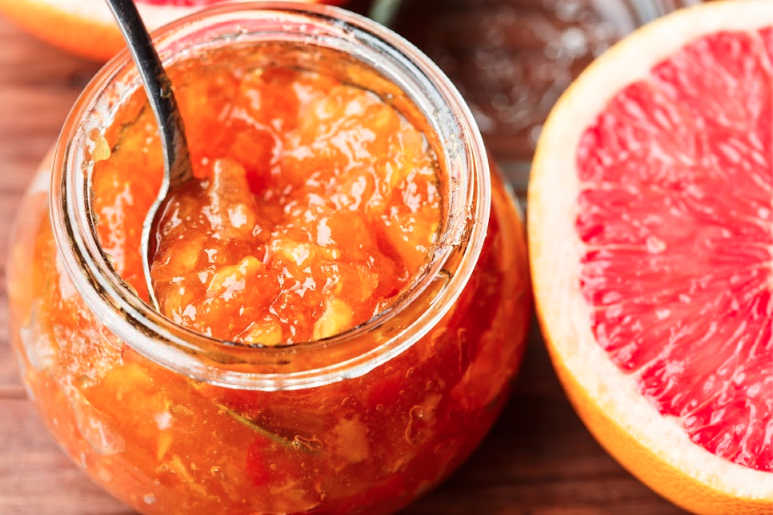 If you've got nice grapefruits that are marmalade-worthy, be sure to check out the posts for the Food in Jars Mastery Challenge for the month of January! It was all marmalade, all the time! I'm pretty confident that you'd find the answer to just about any marmalade question in amazing posts like this one on Marmalade Troubleshooting.
Save
Save