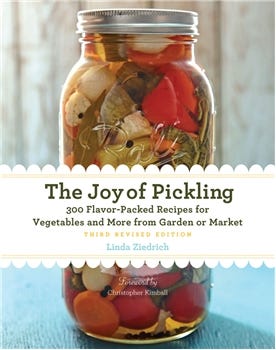 Introducing the third edition of the best-selling pickle book ever! The Joy of Pickling is packed full of pickling recipes, including 50 brand new recipes. You'll find recipes that utilize both a variety of preserving methods including canning, no-fuss quick pickles for the refrigerator or freezer, and fermented pickles. Plus, a whole chapter on sauerkraut, kimchi & other cabbage pickles, miso and soy-sauce pickles!
We chatted with Linda Ziedrich, the author, about the book. She shared a bit about what preservers can expect from the third edition, as well as a recipe from the book – Spicy Pickled Peach Slices.
The third edition reflects my pickling research of the past eight years. There are fifty-some new recipes. They include new produce: sanditas (also called Mexican sour gherkins), lotus root, hinkelhatz and habanero peppers, leek scapes (for which garlic scapes can be substituted), and Swiss chard.
There are new fermented pickles, including green olives, whole watermelons, whole cabbages, Jerusalem artichokes, kohlrabi grated and cured like kraut, and, for the small-scale fermenters, small-batch krauts with beet, kale, and carrot and onion added.
Readers will also enjoy trying my new relish recipes, including a fermented tomato salsa, a roasted tomato and pepper salsa, a harissa made from fresh peppers, and the Dutch-Indonesian mixed pickle called atjar tjampoer in the Netherlands and acar champur in Indonesia.

Spicy Pickled Peach Slices
2 3-inch cinnamon sticks, broken
2 teaspoons mace or chopped nutmeg
1 ½ teaspoons whole cloves
1 ½ inch ginger root, sliced into quarter-size rounds and slivered
2 cups distilled white vinegar (5 percent)
2 ¼ cups sugar
24 coriander seeds
8 allspice berries
2 teaspoons hot pepper flakes
4 quarter-size slices of ginger root
1 teaspoon pickling salt
About 4 pounds freestone peaches
Put the cinnamon, mace or nutmeg, cloves, slivered ginger root, vinegar, and sugar into a saucepan. Bring the liquid to a boil, stirring to dissolve the sugar, and then immediately reduce the heat to a simmer. Simmer the syrup for 10 minutes.
Divide the coriander, allspice, pepper flakes ginger slices, and salt among four pint mason jars.
In a pot of boiling water, blanch the peaches a few at a time until the skins loosen, about 30 to 60 seconds. Plunge the peaches into a bowl of cold water.
When all the peaches are blanched, slide off their skins. Slice each peach into wedges about 1 inch wide at the widest point.
Strain the syrup into a wide pan. Bring the syrup back to a simmer, and add the peach slices. Bring the mixture to a boil, and remove the pan from the heat.
Ladle the peaches and syrup into the mason jars, leaving 1/2 inch headspace. Add two-piece lids, and process the jars in a boiling-water bath for 20 minutes.
Makes 4 pints
Photo Credit: Linda Ziedrich

You can get your copy of The Joy of Pickling right here. If you are more of a jam person, you'll want to check out Linda's The Joy of Jam, Jellies, and Other Sweet Preserves.
Get More Recipes From Linda Ziedrich
Fermented Tomato Salsa from Joy of Pickling
Raspberry Jam (without pectin)
Save
Save
Save
Save
Save
Save
Save
Save
Save
Save
Save
Save