(Updated – July 20, 2020)
Here in Lancaster, PA, we're just now heading into peach picking time for freestone peaches and are super excited! We're watching Cherry Hill Orchard's site to see when they're officially available and when the Pick-Your-Own opens up. We wanted to pass along some delicious ways to put up those sweet fruits!
Peach Prepping Tips
If you're new to preserving peaches, be sure to confirm that you're taking the freestone varieties home with you. Nothing can take the wind out of peach preserving sales than fighting with the peels & pits!

When I have properly ripened peaches, the peeling process is a breeze. I grab my 4th Burner Pot with that nifty basket to blanch my peaches – about 3 at a time depending on their size, and a large bowl of ice, a larger bowl for the peeled peaches are we off! You can use a little fruit fresh or lemon juice to hold off browning. If I'm using a recipe that includes weights, I will often try to weigh batches out immediately after peeling so that I can cover/refrigerate until my peeling is complete.
Recipes
We've enjoyed making peach preserves – they're some of our absolute favorites! This Maple-Vanilla Peach Jam was amazing! It's sweetened with Maple Syrup and used Pomona's Pectin. If you are short on time try making this easy Peach Freezer Jam.
Marisa of Food in Jars has several marvelous peach preserving recipes scattered throughout her 3 cookbooks; Food in Jars, Preserving by the Pint and Naturally Sweet Food in Jars; she also shares several on her blog. Here are a few of our favorites: Spicy Peach Preserves, Slow Cooker Peach Vanilla Butter, and this Honey-Sweetened Peach Vanilla Jam. You're also likely to enjoy this Simple Peach Cake, one of her Preserves in Action.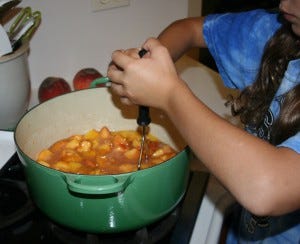 If you're hoping to incorporate probiotic components into your preserving and eating habits, Amanda, author of the blog Phickle and the incredible Ferment Your Vegetables book, has developed this enticing Fermented Peach Sauce – perhaps the healthiest thing you could add to a bowl of ice cream before devouring it!
If you like a good fruity salsa, try making this Peach Salsa.
Sharon over at Simply Canning, will walk you through the basics of canning peaches (with or without syrup) and how to can Peach Pie Filling and tips on variations.
What's your favorite method of preserving peaches?
Save
Save
Save
Save
Save
Save
Save
Save
Save
Save
Save
Save
Save
Save
Save
Save
Save
Save
Save
Save
Save
Save
Save
Save
Save
Save
Save